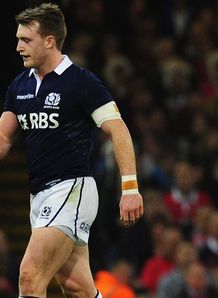 Related links
Also see
Scotland full-back Stuart Hogg has received a three-week ban after making a late shoulder charge on Wales fly-half Dan Biggar over the weekend.
Hogg appeared in London on Wednesday before an independent Six Nations Disciplinary Committee, having been dismissed with a red card during the Six Nations match in Cardiff last Saturday.
The player did not contest the red card. The disciplinary committee, chaired by Mark McParland (Ireland), along with Jeremy Summers (England) and Achille Reali (Italy), having viewed the TV footage of the incident and considered representations by and on behalf of the player, determined that the player's actions constituted an act of foul play contrary to Law 10.4(F) and that it was in the mid-range of the IRB's sanctions for the type of offence, resulting an entry-point of a five-week playing suspension.
The disciplinary committee found that there were no aggravating factors and granted the player a 40 percent (two week) reduction to account for mitigating factors, including the player's remorse for the incident both on the day of the match and subsequently through the media.
The disciplinary committee therefore imposed a sanction of a three week playing suspension. Hogg is suspended from playing until midnight on 6 April 2014 and has the right of appeal.
Law 10.4(F): Playing an opponent without the ball. Except in a scrum, ruck or maul, a player who is not in possession of the ball must not hold, push or obstruct an opponent not carrying the ball.