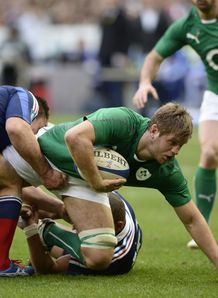 Ireland flanker Chris Henry has turned his attention towards winning the Rugby World Cup after winning the 2014 Six Nations.
The openside has stepped in admirably for Sean O'Brien and was one of Ireland's star performers in a hard-working pack lead by Paul O'Connell throughout the tournament.
The 29-year-old now though has his mind on next year's global showpiece in England, with Ireland pooled with France and Italy and coming into some form under new head coach Joe Schmidt.
"I think we have to capitalise on this now in terms of the World Cup," said Henry.
"We've got such a massive run-in to the World Cup now, that when we get together next we've got to focus on that.
"I feel a lot of us have improved individually in the last eight weeks under Joe, and that's what we need to keep doing. Because of the quality of player we have, there's no telling how far this team can go.
"I want to use it as a springboard for myself as well, personally. Every time I go out there I put pressure on myself. I've just loved every minute."
Henry added that it had been a privilege to play in Brian O'Driscoll's final Test, with the 141-Test cap veteran retiring at the end of the season and winning his second Six Nations title.
"I think definitely we will look back and one day, say: 'I was there'," added Henry.
"I feel very privileged and honoured to be able to play in his last game, and to play so many games with him.
"It's a fantastic feeling to win it with his last day, but also very sad too.
"It's going to be strange when we go to the next camp and he's not going to be there, but unfortunately that's the way life is. Things have to move on and I'm just so privileged to be able to play with him."