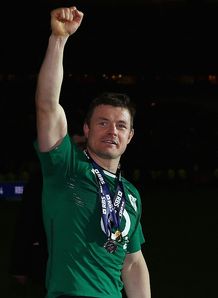 Brian O'Driscoll signed off on a glittering career with an enthralling 22-20 win over Ireland to clinch the Six Nations title.
The talisman centre hung up his boots on Saturday, bringing down the curtain on a decade and a half of top-class Test rugby. Truly, it is the end of an era.
"It feels great to be a two-time Six Nations winner. It's great to finish on a high in my last game in this magnificent jersey," O'Driscoll, who clinched a rare Irish Grand Slam in 2009, told the BBC.
"When I do hang it up on the hook inside, it'll be with very fond memories. I'm absolutely delighted. There's a huge Irish contingent here. I'm glad we gave them something to shout about."
"It's fantastic for Ireland, for the people back home but also for Brian and his family," added fellow veteran, Paul O'Connell.
"To be part of the team that laid the platform for him to have a great finish to his career is great for everyone involved."