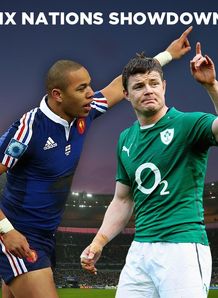 Related links
Teams
Also see
There is no more dangerous beast in world rugby than a French team with its back to the wall. Irish fans shouldn't start counting their chickens just yet.
Yes, Ireland have been the form team of the 2014 Six Nations and, yes, their massive points difference means that victory is Paris will almost certainly hand them the trophy, even if England thrash Italy earlier in the day.
Yes, France have blown more cold than hot this year and, yes, Philippe Saint-André has once again pulled a handful of rabbits from his selection hat, but when siege mentality takes over a French squad, as it currently has, anything - and I really mean anything - is possible.
France were somewhat lucky against England, uninspired in Cardiff and similarly terrible at Murrayfield and now the cockerels of discontent have come home to roost in a big way. Large sections of the French rugby public are bordering on outrage and the media are going into overdrive as the national team and its coaching staff continue to frustrated and disappoint in equal measure.
Questions about the French game plan - or the apparent lack thereof - are rife. Raised eyebrows over selections have become a weekly feature in French columns (I'll join the chorus of voices asking why Morgan Parra was ignored for the game against Wales and why the hell Jean-Marc Doussain is still ahead of him now).
Patience has run out with PSA's "denials of reality" to quote former Bleus boss Bernard Laporte, who is fed up with the current coach "taking the piss" by telling us that all is going well. Sébastien Chabal jumped on the bandwagon midweek, pointing a finger at the staff's supposed lack of expertise in defensive coaching and saying France are "dans la merde".
It doesn't make for a pretty picture, yet you'd be hard-pressed to find an Irish fan that isn't nervous about this weekend.
And for good reason. After all, only France could lose to Tonga and come within inches of winning a World Cup in the same month.
Despite the significant turnover in personnel since 2011, it's not unreasonable to draw parallels with drama of the RWC because it was the same 'us-versus-the-world' mentality seen in the final in New Zealand that was evident when a very grumpy Nicolas Mas marched out of a press conference on Tuesday after a few - legitimate - questions over France's tactics and struggles at scrum time rubbed him the wrong way.
In this state of mind, the scope for things to go either horribly wrong or wonderfully right for Saturday's hosts is vast.
The history books massively favour the French. In 42 years, Ireland have won in Paris just once, in 2000. In fact, Ireland have not beaten France in any Test since winning at Croke Park in 2009, although the last two clashes between these sides have both ended in a draw.
But if ever there was a chance, or a source of motivation, for a team to shine then the occasion of Brian O'Driscoll's final Test is it. After last weekend's emotions of the great good-bye in Dublin, the challenge for Ireland is to rekindle the magic of that performance, not an easy thing to do.
Joe Schmidt's team certainly take some impression form to the French capital (along with the input of their sports psychologist). Ireland have been the most disciplined side in the competition, conceding just 27 penalties in the first four rounds. They are the best ruckers, losing only 18 of 458 rucks they have contested and have three of the top four turnover winners in their ranks. The Irish line-out is also the most effective with just four losses and 57 ball wins.
In other words, Ireland are the best at winning the ball, the best at keeping the ball, and give away the fewest penalties in the search of getting the ball. They're also the best at distributing the ball, leading the Championship stats with 710 passes.
France are at opposite end of the passes-thrown spectrum (fifth spot with 485, just six more than Italy) which highlights the contrast between their direct approach and Ireland's willingness to move the ball into space. The selection of Louis Picamoles on the flank further shows French intent to carry the ball up route one. The big Toulouse number eight is France's chief ball carrier while Ireland's is full-back Rob Kearney (54 carries gaining 370 metres).
Given those stats, one would be forgiven for wondering if the famous flair that the Parisian crowd so yearns for is more likely from the team in green. They certainly have a man who knows how to spark something special in the City of Light.
Players to watch:
For France: Ever since 19-year-old Toulouse centre Gaël Fickou scored that dramatic late try that beat England, French fans have been howling at the sight of the lean speedster sitting on the bench while bulldozing Mathieu Bastareaud started. Now Fickou gets his chance as PSA looks to him to play a similar role to Wesley Fofana. Although Basta will wear 13, PSA has said he'll be used more as an inside centre to ram holes for Fickou to exploit. The midfield duel with Test rugby's most-capped centre pairing will be epic.
For Ireland: There isn't much more to say that hasn't already been said about Brian O'Driscoll over the past fortnight. Cometh the hour, cometh the man goes the old cliche and Irish rugby's favourite son has always produced on the big occasion. A Six Nations title would be the perfect way for the world's most capped player to end his career and if anyone has the skills required to change a game, it's BOD.
Head-to-head: France have conceded the most turnovers in the championship so far with 68, while Ireland have three of the top four turnover winners in their back row - Peter O'Mahony, Chris Henry and Jamie Heaslip - meaning the battle the loose trios has the potential to be decisive. France have stocked their team with muscle by putting a monster number eight on the side of the scrum and lock in flank's clothing on the bench in an attempt to keep the ball safe - will it work?
Previous results:
2013:13-13 draw at Lansdowne Rd, Dublin
2012:17-17 draw at Stade de France, Paris
2011:France won 26-22 at Lansdowne Rd, Dublin
2011:France won 19-12 at Stade Chaban-Delmas, Bordeaux
2011:France won 25-22 at Lansdowne Rd, Dublin
2010:France won 33-10 at Stade de France, Paris
2009: Ireland won 30-21 at Croke Park, Dublin
2008: France won 26-21 at Stade de France, Paris
2007: France won 25-3 at Stade de France, Paris (RWC)
2007: France won 20-17 at Croke Park, Dublin
2006: France won 43-31 at Stade de France, Paris
2005: France won 26-19 at Lansdowne Rd, Dublin
2004: France won 35-17 at Stade de France, Paris
2003: France won 43-21 at Colonial Stadium, Melbourne (RWC)
Prediction: There has been literally nothing to separate the teams since 2011. A third stalemate would equal the Test record of three successive draws shared by France and England between 1959-61. Ireland do not have a good track record when carrying the favourites tag and the emotions of last week's Dublin farewell for BOD may come with a hangover. We've got a sneaky feeling the hosts could 'do a France' and upset the form book. Les Bleus to get lucky and win by five.
The teams:
France: 15 Brice Dulin, 14 Yoann Huget, 13 Mathieu Bastareaud, 12 Gaël Fickou, 11 Maxime Médard, 10 Remi Tálčs, 9 Maxime Machenaud, 8 Damien Chouly, 7 Alexandre Lapandry, 6 Louis Picamoles, 5 Yoann Maestri, 4 Pascal Papé, 3 Nicolas Mas, 2 Dimitri Szarzewski, 1 Thomas Domingo
Replacements:16 Guilhem Guirado, 17 Vincent Debaty, 18 Rabah Slimani, 19 Alexandre Flanquart, 20 Sébastien Vahaamahina, 21 Wenceslas Lauret, 22 Jean-Marc Doussain, 23 Maxime Mermoz
Ireland: 15 Rob Kearney, 14 Andrew Trimble, 13 Brian O'Driscoll, 12 Gordon D'Arcy, 11 Dave Kearney, 10 Jonathan Sexton, 9 Conor Murray, 8 Jamie Heaslip, 7 Chris Henry, 6 Peter O'Mahony, 5 Paul O'Connell (c), 4 Devin Toner, 3 Mike Ross, 2 Rory Best, 1 Cian Healy.
Replacements: 16 Sean Cronin, 17 Jack McGrath, 18 Martin Moore, 19 Iain Henderson, 20 Jordi Murphy, 21 Eoin Reddan, 22 Ian Madigan, 23 Fergus McFadden
Date: Saturday, March 15
Venue: Stade de France, St. Dennis (Paris)
Weather: 14°C at kick-off. Cloudy but dry
Kick-off: 18.00 local (17.00 GMT)
Referee: Steve Walsh (Australia)
By Ross Hastie