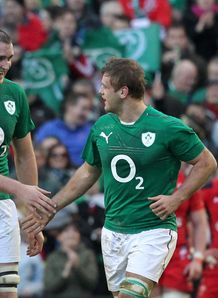 Ireland and Ulster back-row forward Chris Henry is determined to keep on improving in the green jersey, saying "there is more to come from me".
The 29-year-old has started all four games for his country so far in this season's Six Nations and should make it five against France this week.
But he is not getting ahead of himself as both he and Ireland look to enjoy a memorable night in Paris that could see them crowned champions.
"Because I have got a run of games, yes, without a doubt I'm feeling very comfortable in that place. There is more to come from me," Henry informed RaboDirectPRO12.com ahead of the key clash.
"There's a few things in my own game that I wasn't happy with. But, you always assess the games and improve.
"When you are playing around big players, it brings out the best in you as well. Hopefully if I can play again next week, it will be my best game yet.
"It's huge, I have travelled to Paris as a 25th man before, but never got to play.
"The atmosphere is intimidating. It is going to be a really hard game. Obviously playing away from home in Twickenham, we showed there we missed a few opportunities we didn't take and the game just got away from us.
"When you are playing the best teams, it is that one chance, that one opportunity that you create and you don't take."