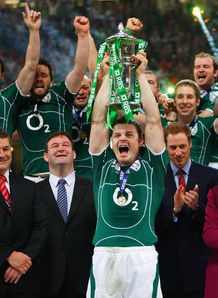 We take at look at what each team in the title hunt needs to finish top of the Six Nations table come the end of Saturday's showdowns!
After four pulsating Rounds of Six Nations action, Ireland, England and France are all still able to get their mitts on the trophy, so there are plenty of permutations for the top three sides.
Ireland: Ireland are in the box seat atop the standings. Their 40-point win over Italy this weekend - not to mention what may prove a crucial 26-3 win over Wales - has given their points difference, now standing at 81, a real shot in the arm. They head to Paris knowing any sort of win should hand them the Championship, unless England rack up a cricket score against Italy. The title is within touching distance.
England: Stuart Lancaster's men must put Italy away and hope France can topple the Irish in Paris. If les Bleus can pull that off, England's points difference plus what should be a decent victory in Rome would hand them the title. If Ireland win, even by a single point, England would have to have put Italy to the sword earlier in the day to overturn the 49-point gap between the sides' points difference totals .
France: If France are able to turn over Ireland, les Bleus must hope in Italy can keep the scores low and tight in Rome. The French are 29 points short of England's total; so a 30-point win for the French and a one-point win for England. would do the trick. That isn't likely, though. Of course, if Italy upset their visitors, a French win of any kind will be good enough to bring silverware to Paris.