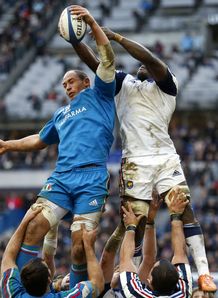 Italy captain Sergio Parisse is more concerned about claiming a win over Scotland than the cap record he is about to break in Rome on Saturday.
Parisse and Martin Castrogiovanni will walk out for their 104th appearance for the Azzurri, going past the record held by Andrea Lo Cicero.
But while the number eight appreciates the feat, he was much more concerned with the bigger picture in Rome as they look to beat Scotland.
"The 104 caps is an important milestone for me, especially because I am sharing the feat with my great friend Castrogiovanni," Parisse revealed.
"Luckily I had very few serious injuries in my career and that has allowed me to get to this day.
"But I am putting that to one side. It is clear in my head right now that all I'm thinking about is Scotland and the win."
Scotland enter the game as underdogs after a poor start to the Six Nations and the fact they have not won in Rome for eight years, something Parisse downplayed ahead of kick-off.
"A victory is not a foregone conclusion. We must not make the mistake of addressing the match without the proper concentration. Scotland have put us in trouble often in the past," he added.
"We have to play in the best possible way - it would be a fatal error if we do not go into the match with the right head.
"The best way to do well against Scotland is to be afraid of losing. Let me be clear - we are confident and we want to play with the right intensity for 80 minutes.
"We are playing at home in front of our large crowd. The Stadio Olimpico will be packed with 70,000 fans. We don want anything to go wrong."