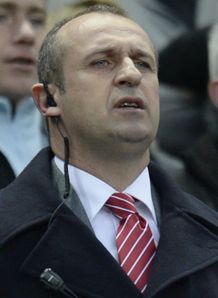 France head coach Philippe Saint-André praised his side for producing "play of the highest quality" in their home victory over Italy on Sunday.
Les Bleus made it two wins from two in the Six Nations ahead of the break in the Championship, with boss Saint-André not looking too far ahead.
"The main thing we should remember from this game is that we have back to back wins for the first time since 2012 and that is important," said the former France wing and captain in Paris.
Saint-André, whose side finished bottom of the Six Nations last year, said he had been pleased his players had not lost their heads with the match evenly poised at 9-3 at the Stade de France.
"We didn't panic, and the players remained confident something would happen," he said.
"We had said throughout the week and at half-time that we would go for their throats at the beginning of the second-half which we failed to do against the English.
"And that is what we did. We produced play of the highest quality. We were more direct in attacking them, Mathieu Bastareaud held the centre of the pitch, and we moved the ball quicker...and as a result scored three tries."
He added about the yellow card and two sendings off: "Like everyone else, the players got bored over the final 20 minutes, I mean we were I can tell you in the stands."
"We had a yellow card, and I told Sebastien Vahaamahina that his gesture was totally out of place. Then there was our red card in which the Italian provoked him and he reacted badly.
"After that we were down to 13 players, it was rubbish rugby."
Italy coach Jacques Brunel, who guided the Italians to two wins in last year's tournament over the French and the Irish both in Rome, said he had found it a strange game.
"For 60-70 minutes we were a match for the French except for the opening minutes of the second-half completely changed the shape of the game," said the 60-year-old Frenchman, whose side next play Scotland in what could be the wooden spoon decider with both having failed to register a point yet.
"We dominated the scrum in the first-half and in the only scrum of the game that we lost (at the beginning of the second-half) they got a penalty, kicked to touch and subsequently scored a try (Louis Picamoles).
"That is a shame as I think over the whole of the match we were better than them in the scrum."
He added: "I do not contest at all the victory of the French, they played better than us."
"But overall I take positives from this game. The team kept at it till the end, never let their heads go down.
"What the players showed, is their ability to make progress even when the scoreline is not in their favour."