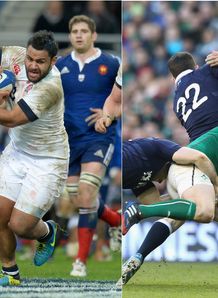 Each Wednesday during the Six Nations, Planet Rugby's Expert Witness analyses the past and coming weekends' action along with a former international player.
This week we have an appropriately Gallic flavour in the formidable shape of former France and Stade Français centre, Brian Liebenberg.
There's a precedent in rugby that France traditionally do well the season after a British and Irish Lions tour. Judging from the excitement generated at Stade de France on Saturday, this theme seems set to continue this year as a young and fearless French side overcame a formidable fight back from their powerful foes.
Liebenberg, a skilled and powerful three-quarter, purred with delight at the fortunes of his national side:
"Philippe Saint-André is a man that will stand by the courage of his convictions," explained the big Parisian.
"I was thrilled to see him prepared to back a mixture of youth and proven skill. Nothing prepares you for the intensity of a Test against England; the history of the two nations and the passion of both sets of fans always makes for a stunning occasion, and this time we got a game of rugby to match that cultural perspective.
"In the last few years, England have always managed to be the stronger side towards the end of the game; some would suggest greater fitness levels, but this time I was delighted to see the young French team dig deep and find the killer blow.
"The impact of the French replacements made a significant difference and my old team-mate Dimitri Swarzewski will be delighted that his brilliant intervention in the wide channels set up the French win."
Much of the post-match media focus has highlighted the difference between the impacts made by both benches. Liebenberg noted a simple blunder in England's defence from replacement Brad Barritt that allowed the hooker and replacement Gael Fickou to combine for the winning score:
"Unusually, England predominantly operated a blitz defence in this game," explained Liebenberg .
"I noted the impressive Luther Burrell and Billy Twelvetrees rushing up consistently on their opposite numbers, possibly to prevent the power running of Mathieu Bastareaud to gain momentum. However, if you operate a blitz, you must also remain aware of the wide channel threat, and you achieve that by blitzing on the first two or three plays, but then being prepared to revert to a drift if the opposition get momentum.
"Key to this is having the right players in the wide channel to challenge the pace runners. When France scored, Barritt, a player noted both for defence but crucially also 'doglegging' his own defence on occasions, stepped up to blitz, but left a second row, Joe Launchberry, in the 13 position. Swarzewski was able to dummy and round the lock to release Fickou, a crucial defensive error by England. Barritt would have been better served pulling Launchberry inside into the 12 role and himself staying out wider, where he'd have had the pace to have prevented the pass.
"Attention to detail really matters in a game of fine margins and Barritt will be kicking himself for this lapse."
Elsewhere, the forward effort by both sides was immense, with France edging the scrum battle, and England taking the line-out honours. Liebenberg is quick to herald the riches England have at number eight:
"I have to say I was hugely impressed by Billy Vunipola, but even more impressed by Ben Morgan! Both put huge dents in the French defence and were a handful. I think Morgan made 80 meters in 14 minutes. That was an immense effort. I hear that Stuart Lancaster would like both to start; I'm not sure their skillset is varied enough for that, but they are both high-class operators.
"But the most cheering thing was the cool heads shown by the young Frenchmen. Jules Plisson and Jean-Marc Doussain were really outstanding in the half backs, and with Morgan Parra returning to fitness France finally look to have options in this area.
"A mention too for Pascal Papé and his leadership. He has become our new Fabien Pelous. He leads, he drives, he catches, he inspires. All in a very understated and professional way. Even though I know Thierry (Dusautoir) will return, having leadership in all areas of the team is crucial at this level. Pascal inspired the youngsters to believe when they frittered away a 13 point lead. That showed huge character.
"In closing off on this game, I also wanted to give a little shout out to referee Nigel Owens. He was immense and had a claim to be Man of the Match! You hardly noticed he was there and his ability to let the game breathe around him at pace showed his great empathy with the players. A real display of quality from the ever-passionate Nigel."
Over in Cardiff, Wales commenced the defence of their title with a slightly unconvincing win against a much-improved Italian side. The Azzurri showed greater pace and ambition than they've managed in previous campaigns and Liebenberg believes Jacques Brunel is at the heart of their ambition:
"Jacques is a seasoned coach, cutting his teeth with both France as a technical analyst and with Perpignan. He has brought belief into the Italian side, and also has nurtured the development of some promising young talent," noted Liebenberg, who started his senior career in Italy.
"In seasons gone by, the gameplan against Italy was simple; stop Sergio Parisse and you stop Italy! However, whilst I acknowledge Sergio's brilliance (and I spent a long time watching it week in and week out at Stade Français!), other players have slowly made ground too.
"Alexander Zanni is the unsung hero of Six Nations rugby, a quality flank that would get into many international sides. Young Michele Campagnaro showed exactly why he's so highly rated by Brunel with a massive display against two world class Welsh centres in Jamie Roberts and Scott Williams. Michele has real pace and I'm sure the French and English chequebooks will be open for his talent when his contract expires at Benetton Treviso!
"It was warming to see but in the final analysis Wales had too many reference points and too much experience for Italy. I was also disappointed with the Italian scrum; after years of relying upon the robust figures of Salvatore Perugini and Andrea Lo Cicero the loosehead side was exposed by the pressure of Adam Jones. Italy failed to get the stability that Parisse normally enjoys at the base, and the resultant penalties really hurt Italy.
"When you play Wales, you know that the penalty 'red zone' is your entire half. Leigh Halfpenny is simply a points machine and discipline is absolutely paramount if you want to win in Cardiff. He will kick anything, from anywhere.
"However, Italy will take much from that game, and Wales will improve for the Ireland game. It will be a close match to call this coming weekend."
In Dublin's wonderful Aviva Stadium, a below-par Scotland capitulated to a strong Irish effort, epitomized by the all round skills of fit-again Cian Healy and another evergreen performance by Ireland's midfield. :
"When I look back at my career I'm often asked which centre pairing gave me the hardest challenge; without doubt Brian O'Driscoll and Gordon D'Arcy were those guys. D'Arcy's ability to offload and stay on his feet is immense, and I can't find words to describe the consistent brilliance of the warrior O'Driscoll and his knack of finding a killer blow even when you thought you'd got the edge over him. Whenever I came up against them I knew it would be a hard day at the office! It was a shame Gordon wasn't alongside his partner in crime, but I was delighted that 'Drico' broke yet another record in becoming the most capped Six Nations player.
"People have been quick to hail Johnny Sexton's feint and go to make the space for Jamie Heaslip's galloping try. What observers do not realize is that space is also created by the defensive attention that is needed to contain Brian. He occupies your thoughts so much that Sexton gets just a micro-second more than most fly-halves to orchestrate the game. That was clearly evident in the Heaslip try as the Scots defence had already taken a step to the side to counter a midfield run from 'Drico'.
"I am slightly perplexed by the Scottish players too. Looking at their side on paper you see world-class options in the back five of their scrum (especially at lock), a solid half back pairing and a great young centre in Matt Scott. They simply did not turn up, and Cian Healy, Jamie Heaslip and Peter O'Mahony bullied them all day.
"O'Mahony is not a headline grabber, but he pilfered all day and I think he made at least 3 crucial turnovers. That's the sort of coal-face work that is the difference between success and failure."
With Round Two approaching, and Ireland hosting Wales, Scotland entertaining England and Italy welcoming France, Liebenberg expects a good weekend of international rugby. Are there any surprises in store?
"Obviously the Ireland Wales game is a plum fixture; it'll be an immense battle. The match ups go right through the teams; Jones v Healy, Faletau v Heaslip, Halfpenny v Kearney and many more. It's a tough one to call, but Ireland are always tough in Dublin, so I'll take Ireland by 8.
"Up in Murrayfield, providing the pitch holds up, England's power should be enough, but if there's going to be an upset this may be the one. Scotland always up their game for the Auld Enemy and I would not be surprised to see the Scots take it, but logic dictates England by a score. I am hedging on this one, I'm afraid!
"France will dispose of Italy. More important for the game is how Italy build on their promising display in Cardiff. I think France will win by 12 but I hope Italy push my old team-mates right down to the wire!"
That concludes the first edition of Expert Witness for 2014. We would like to thank Brian for his time and wisdom and we look forward to having him on board again later on in the season.
We will be back next week with former England centre Mike TIndall in the chair and we look forward to talking to you then.
Brian Liebenberg played 12 Tests at inside centre for France, scoring five tries - including three at the 2003 World Cup - and was part of the Six Nations Grand Slam-winning squad of 2004. He won three French league titles with Stade Français before retiring in 2011.
These days, Brian heads PLAYRSA, helping young players break into the ranks of professional rugby in France and organising sports tours around the world.
Expert Witness is compiled by James While