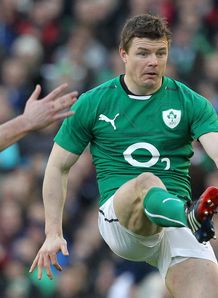 Related links
Also see
Ireland coach Joe Schmidt hailed veteran centre Brian O'Driscoll after his record 129th Test appearance against Scotland on Sunday.
O'Driscoll set an all-time caps record for Ireland in Dublin, but the 35-year-old will retire at the end of the season after a glittering career.
And Schmidt feels O'Driscoll's prowess on defence remains a cornerstone of Ireland's power in the Six Nations.
Stand-in skipper Jamie Heaslip and Schmidt joked O'Driscoll could almost be starting to age in reverse, just like literary character Benjamin Button.
"If he can hit 24 next week I think we'll get the perfect blend; he's Brian Button now," said Schmidt.
"Brian got through his defensive workload pretty effectively, and we knew he would have to.
"He had [Scotland number eight] David Denton coming round the corner, who was a real threat for them.
"I thought he did a fantastic offensive tackle towards the end of the game, where if they'd broken the line they would have been able to have one last shot at us, but he took all that time and space away, wrapped the guy up, got to his feet, stole the ball.
"That's the sort of quality he brings, it wasn't just the quality of the tackle, it's the quality of what he did post-tackle that makes him great value.
"By his own standards there were a couple of loose passes, and he'll look to tidy that up. Again, he's a player who plays well when he's had a couple of games under his belt. So he'll be a little bit more comfortable again next week.
"You feel a little bit more under pressure to create something when you haven't had a lot of ball. It's a fine line balance between taking risks and pushing it too far."