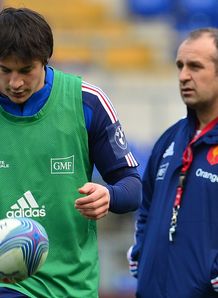 France fly-half Francois Trinh-Duc has admitted his recall to the international set-up ahead of the Six Nations is a massive boost to his confidence.
Trinh-Duc has not played for Les Bleus since last year's Championship but an injury to Remi Tales saw him called in coach Philippe Saint-Andre.
"It's going to be hard to wipe (the smile) off my face," said Trinh-Duc, who will compete with Jules Plisson and Jean-Marc Doussain at fly-half.
"This is very, very good for my head."
Saint-Andre's reluctance to trust Trinh-Duc in the past has been puzzling but the 48-cap fly-half is only worried about the now, taking on England.
"I'm coming back just like for my first selection, with a lot of 'punch', desire, joy and hunger," said the Montpellier player.
"It's true that it's been a long time. I've been dedicated, I've worked hard. It's been tough but I didn't give up, my aim was always to get back in the French team.
"Now it's almost done. But I'm not here to take revenge against anyone."
Trinh-Duc was criticised for defensive mistakes, his tactical kicking and his application within the group during 2013, but he insists he's been working on improving ever since.
"I always kept contact (with the France set-up) to have a core of work, of objectives," said Trinh-Duc.
"I kept training, I did some extra while thinking of France.
"I've been working on my kicking game with someone in particular, that's brought me a lot.
"It's mostly a different approach, I'm taking pleasure in doing extra work after training."