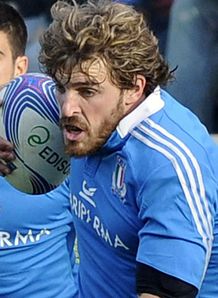 30-year-old Mirco Bergamasco revealed Italy coach Jacques Brunel always left the door open for a return to Test match rugby.
Bergamasco has been dogged by injuries, leaving his Top 14 background for Italian league side Rovigo.
"(Italy) coach Jacques Brunel told me that the door of the national team is always open and that it depended on me," said Bergamasco.
Brunel added: "I told Mirco that if he managed to show he was at a level that was better than the average in the Italian league, then it wouldn't be difficult for me to call him up to the national side."
"He is constantly among the best on the pitch for Rovigo and is one of the most experienced international players."
Bergamasco admits he relishes playing and kicking for a side with which his family has a special relationship.
"My father played (rugby) at Rovigo," he revealed. "The club house is full of his photos.
"My mother was born here and it's here where they got married.
"My grandmother lives 200 metres away from the stadium and she came to my unveiling.
"I've had to buy 20 season tickets for my family and had I known that, I would have included those in my contract!
"I kick every weekend. As a centre, it's easier with less pressure. But at Rovigo I have found a quality group led by very capable coaches.
"The atmosphere in general is very professional, perhaps more than other clubs that I have played for in the past.
"The important thing is to be a part of the group. I'm always available for the national team.
"I will try to find more space and if possible, in the role that I feel more comfortable with. I am very happy and ready to give 100 per cent."