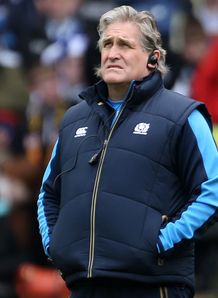 Scott Johnson insisted he would not lose sight of longer-term goals while trying to ensure Scotland remained competitive in the Six Nations.
Despite being hampered by a relatively small playing base, Scotland finished an encouraging third last year after wins over Italy and Ireland.
Australian Johnson, in his final Six Nations before moving 'upstairs' at the Scottish Rugby Union ahead of the arrival of Vern Cotter from Clermont, said he wouldn't blood new players unless he was sure they were ready for the strain of Tests.
"We'll always make sure they are equipped to do it physically: we don't want to go to a gunfight with a water pistol," explained Johnson at Wednesday's Championship launch in London.
"We're not the finished article and we get that. What we need is a good base to pick from, and good mileage on the clock by the time we get to the World Cup (in England next year)."
Scotland begin the 2014 Six Nations away to Ireland in Dublin on February 2 and Johnson was confident they would be competitive throughout the tournament.
"If we get good consistency then in parts of our game we can beat anyone on our day," he said. "If we're consistent we have a good chance.
"The game is split up into a 60-minute game and an 80-minute game. If we're into the competition at 60 minutes the scoreboard pressure suits us.
"If we keep being there and knocking on the door, the door will open. We're not far from a couple of big scalps here."
And Johnson insisted the arrival of Cotter at the end of the season would neither diminish his authority or distract the players.
"I'm here now and I'll still be here then," he said. "I had a choice of a position, and I chose to be part of this organisation moving forward.
"We've been talking with Vern and I'm looking forward to working with him more closely: it will be nice to have help arriving."