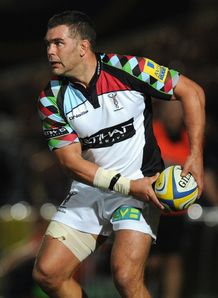 Harlequins number eight Nick Easter believes he deserved a recall to the England squad for this year's Six Nations.
The 35-year-old has not featured for the national side since the quarter-final exit to France at the 2011 Rugby World Cup.
Despite his excellent form for Harlequins over the last two seasons though Easter has not been selected by Stuart Lancaster since his reign began in 2012.
Conceding that his age was working against him, Easter has taken his continued omission on the chin.
"It has to be down to the age factor," Easter told SportingLife.
"I think my form certainly merited a return to the England squad over the last three years but I'm afraid it's down to a matter of opinion especially in team sports.
"In individual sports you can take on your opposition one on one and prove you're better but in a team sport if the England manager thinks someone else is better than you've just got to take it on the chin.
"Picking younger players is the path they've gone down but I think in any sport at the top level you've got to pick the best team at any given time.
"If he feels his best team is the one he's picking full of youngsters then brilliant for him and I think ultimately the World Cup is the goal and that's what we all want England to win. It's just under two years away so they need to build experience thick and fast and learn very quickly."
Easter's attention is now rooted on success for Harlequins, with the London club looking to add to their Premiership title from 2012.
"I'm lucky to play at a club which plays a great brand of rugby with a lot of history and I'm just focused on making more with them," added Easter.
"I think over the last three years I've been playing some of the best rugby of my career and I'm really enjoying it. We've been playing in big games regularly which I thrive on and every week brings something different.
"It's those big games you really want to perform in because I don't have too long left playing at this level so you've got to make each moment count.
"You could get to your first Grand Final aged 22 and never make one again - so you've got to make the most of every opportunity as it comes. As you get older I guess there is a more conscience realisation that these could be your last chances so it does add to the motivation."