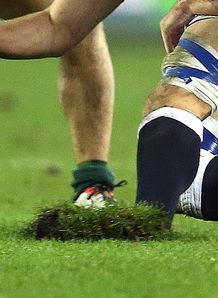 The latest testing of the Murrayfield pitch shows that the parasitic infestation that nearly destroyed the grass is now "manageable" according the Scottish Rugby Union.
The SRU released a statement on Monday saying that the situation was being carefully monitored but warned that some fixtures may be moved away from the stadium in order to ensure is surface was up to standard for the two Six Nations clashes in February.
"The playing surface at the home of Scottish Rugby has been regarded with justifiable pride for many years; therefore its current condition is a matter of understandable concern," read the statement.
"Scottish Rugby appreciates the esteem in which Murrayfield is held and how inspiring it is for many young Scots to be able to fulfil their childhood ambitions of playing on the international pitch.
"This season, however, a parasitic infection, which affected the roots of the reseeded grass pitch, coupled with the wintry weather, has placed considerable stress on the playing surface, in spite of the tireless work of the Murrayfield groundstaff.
"The latest testing of the pitch shows that the problem with the parasite, Nematodes, is now "manageable" and that the treatment being used to eliminate the worm - which includes spraying the pitch with garlic, then plant sugars to stimulate growth - is beginning to take effect.
"Longer-term we are considering a number of potential solutions to return the pitch to its much-lauded status.
"Scottish Rugby remains committed to Murrayfield being the most widely-accessible international rugby ground in the northern hemisphere. That said, we are not immune to the challenges of climate.
"In the short term, we are doing everything we can to support the efforts of our groundstaff to ensure the pitch is in sufficiently robust health to host our two home fixtures in the 2014 RBS 6 Nations Championship - the Calcutta Cup game against England on Saturday 8 February; and our meeting with France on Saturday 8 March.
"As a result, we seek the understanding of players and spectators, who may find that their opportunity to play on/spectate at the international pitch is restricted while we do our utmost to rehabilitate the playing surface.
"Alternative venues are being considered for the National Youth League Finals on Sunday 16 February and the Brewin Dolphin Girls' Finals on Saturday 28 March. We may also have to move other fixtures from the international pitch.
"We thank players, referees and spectators in advance for their support of these decisions, which we have not taken lightly."