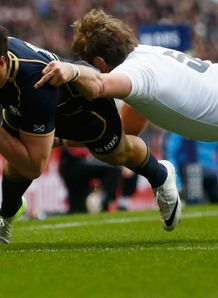 Related links
Teams
Also see
Scotland's New Zealand-born winger Sean Maitland says he still has a lot to prove to the people of his adopted country.
The former Crusaders speedster made a try-scoring debut for Scotland against England on Saturday, but it wasn't enough to prevent his team from suffering a 38-18 defeat.
Scotland's first match under Australian interim coach Scott Johnson saw them score the first try of the 131st meeting between rugby's oldest international rivals thanks to Maitland.
But England overpowered their visitors to record a comprehensive victory, as Scotland's 30-year wait for a Twickenham triumph was extended yet again.
And Maitland insists he and his fellow team-mates have big improvements to make ahead of this weekend's clash with Italy, who stunned France on Sunday.
"You can't be negative," said the 24-year-old, who qualifies for Scotland through his paternal grandparents.
"You've got to be positive. There were heaps of positives: scoring tries and staying in the game.
"But you've got to look at the things you need to work on. There are a lot of things that we need to work on, let's be honest.
"It's just a shame we didn't do the jersey justice; all the boys are very disappointed.
"Things have gone really fast for me. I've only been here for a couple of months. To be playing Test rugby for Scotland is a dream come true.
"It's just the start, hopefully, for me. Going back home to Murrayfield is going to be special. Hopefully I get to play and experience Murrayfield for the first time.
"I've still got a lot to prove to the people of Scotland, getting selected having not been in the country for long."
He added: "I scored my first try in my first Test. I was happy with the first 10 minutes but the next 60 minutes I wasn't too happy.
"There's a few things we need to work on. The tackle area and getting our backs involved. We (the backs) were a bit of a myth out there.
"We were more frustrated, all three of us. There's a lot of talent to be shown in our backline. It's just one of those things."