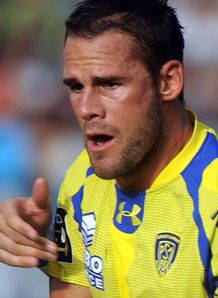 Related links
Teams
Clermont boss Vern Cotter has expressed his support for Lee Byrne's recall to the Wales squad after some impressive performances.
Byrne was named by Wales intermin head coach Rob Howley in the squad last week for the Six Nations after shining in a star-studded backline for the French side, who are one of the favourites to win the Heineken Cup.
"I really struggled to see why he wasn't brought back earlier," said Cotter.
"Lee has been great for us, very, very professional and he has had good performances to back it up. I think it is a bonus for the Welsh team and I wouldn't take him out of Lions contention either if he gets a couple of games.
"He is very solid under the high ball, he has still got his speed, he can still break tackles, he is not shy in the contact, he has got a great boot and has got all that experience at 32.
"I am very pleased for him and for the Welsh team as well. I think it is a wise move. You look what he has put out on the paddock for us and I think he deserves to be brought back.
"He is a Welsh player, he loves his team, loves his country and he was disappointed not to be pulled back in."
"He probably needed a change too to freshen him up and I think it has done him good coming to France and seeing things from another perspective.
"It has made him a better player, at least I think so, and got him out of a bit of a rut that he might have been in when he was playing in Wales for the Ospreys.
"Instead of being criticised, it can be seen as an advantage guys coming out and playing in France. As long as they are managed properly they can always come back and play for their country."