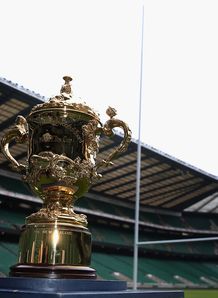 2015 Rugby World Cup organisers have hit back at complaints surrounding ticket prices and kick-off times at the tournament.
IRB CEO Brett Gosper conceded that "You can't please everyone," but maintains the World Cup is accessible to supporters while generating enough income to turn a profit.
While the ticket price range for adults has come under fire from some, England 2015 chief executive Debbie Jevans is keen to stress that the emphasis has been heavily placed on child attendance during the pool stages.
"We thought a lot about child tickets and we decided to have a family friendly approach to the pool stages," said Jevans.
"Of the 48 matches at the World Cup 41 have child prices. It's only the back end of the tournament when they don't.
"A family of four can go and watch Australia or South Africa for £70, or in Manchester a family can watch England for £130. All in all I think we've been very inclusive and I'm very proud of that."
Roughly half of the 2.3 million available tickets will go on sale at less than £100, with at least 500,000 set to be sold for £50 or less.
And although the lowest adult price for a pool match ticket is just £15, a seat at the final will set a fan back £150, £315, £515 or £715 respectively.
Those figures will be outside the reach of most average supporters, but Jevans feels the costs are competitive, and was at pains to remind those who grumble of the need for the tournament to make money.
"Every event has to raise revenue to put on the tournament and therefore you have to have some tickets that may be regarded as expensive," added Jevans.
"In doing that you can have a number of low prices - 200,000 at £20 or less is a pretty good statistic.
"We have looked at previous World Cup finals and other international events. We believe we are comparable to those and are very competitive."
Meanwhile, late kick-off times - especially for England games - have also come under fire from those who argue that an 8pm start will make it hard for children to attend.
"We wouldn't put on an 8pm kick-off if we weren't confident we could make this a fantastic spectator experience," countered Jevans.
RFU chairman Bill Beaumont claimed that the excitement and opportunity surrounding a World Cup on home turf should overcome logistical problems.
"Coming from the north west, my pals will always have a dig at me for the 8pm time," said Beaumont.
"Twickenham is our home ground and it's in London. How many World Cups do we host? Not that many. I'm very confident that the true England supporter will want to come because they want to be part of a World Cup."
Gosper stated that the scheduling arrangements were down to the plethora of needs that had to be planned and catered for.
"We've had to balance many needs - player welfare, spectator pleasure and broadcast needs around the world," said Gosper.
"It's a complex process but we're happy with where we've ended up."