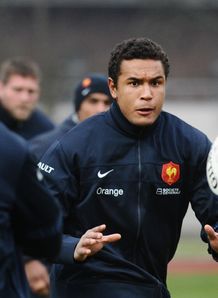 Related links
Teams
France captain Thierry Dusautoir said his side would seek "revenge" for last year's heartbreak when they play at the 2015 World Cup in England.
Les Bles reached the 2011 World Cup final but lost a hard-fought contest by the narrow margin of 8-7 to hosts New Zealand in Auckland.
But Dusautoir, who led his side superbly during last year's tournament, said France hoped to go one better in England in three years' time after being drawn Monday in a Pool D also featuring Six Nations rivals Ireland and Italy,
"For us maybe we are going to have our revenge for the final against New Zealand," said the back-row forward.
The two remaining teams in Pool D will come from either the United States or Canada and one out of emerging European nations Georgia, Russia, Romania, Spain and Portugal.
But all eyes will be on the Six Nations trio who are expected to dominate the fight for the two quarter-final spots out of Pool D.
And for the winners of this pool there is the added incentive of missing out on a likely quarter-final clash against favourites New Zealand, with Argentina in line to provide the opposition for the table-toppers.
And even before Monday's draw France, by virtue of being fourth in the International Rugby Board rankings, were among the top four seeds for the 2015 draw and so avoided a pool match against one of the southern hemisphere 'big three' of South Africa, New Zealand and Australia.
By contrast, Six Nations foes England and Wales were drawn in a group with Australia labelled the "pool of death" by France coach Philippe Saint-Andre.
And Dusautoir was more than happy with the draw given to France, who lost the inaugural World Cup final 29-9 to New Zealand in Auckland in 1987 and were also beaten 35-12 by Australia in the climax of the 1999 edition in Cardiff.
"It's a European pool, it's like being in a little Six Nations again," Dusautoir said. "But it's true that we can be happy to not be in a pool which is really hot."
Meanwhile Ireland captain Brian Driscoll, who has ruled himself out of the 2015 tournament due to his age, said his team had an "okay draw".
"It could have been worse," said O'Driscoll. "It's a bit of a double-edged sword because when you avoid New Zealand, South Africa or Australia, inevitably when you get to the knockout stages you're likely to face one of them sooner rather than later.
"It's an okay draw but I'd imagine France and Italy are quietly happy they've drawn us. They'll think they can beat us."
Ireland have an appalling record against France, winning just one of 13 Tests since 2003, a sequence including defeats at both the 2003 and 2007 World Cups.
"Early in my career we managed to get a few victories against France and then all of a sudden they became a very difficult team for us to beat," said O'Driscoll, who will be 36 by the time the next World Cup begins.
"They play with a lot of confidence against us because of that record.
"But if we play well we can definitely beat them."