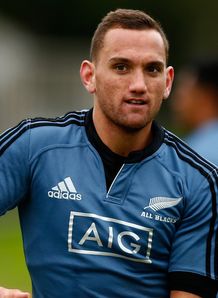 Related links
Teams
Despite delivering a superb performance in New Zealand's recent win over Australia All Blacks pivot Aaron Cruden still wants to improve.
The 25-year-old writes "control" on his left wrist tape before games and did just that as he pulled the strings as the All Blacks' playmaker in their 51-20 victory over the Wallabies in Auckland last weekend.
But although the self-confessed perfectionist admits he is happy with how he played, he is not completely satisfied with his effort.
"I have a lot of improvement in me," Cruden told the New Zealand Herald.
"There are certain areas of my game I'm trying to evolve. I'm always trying to add things.
"The good thing about this team is that you're always getting feedback, whether it is positive or a little bit of constructive criticism to help you as an individual to get better.
"I'm a bit of a perfectionist. I always set my standards pretty high and I'm always striving to keep raising that bar.
"For me, I'm never really content with where I'm at, I'm always trying to evolve and hopefully that continues."
Cruden is in the difficult position of being the All Blacks' back-up to first-choice fly-half Dan Carter, who is currently injured.
When asked if he has now closed the gap on Carter, who is regarded by many enthusiasts as the game's best ever number 10, Cruden said: "Hopefully. I can only control what I can control.
"Obviously with DC being out injured over the last couple of weeks it's given me more time in the No 10 jersey.
"For me, I'm just trying to make the most of every second I get... hopefully I am closing the gap.
"Regardless, any part that I can play in this All Black team is pretty special."