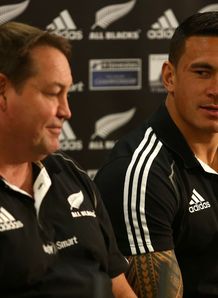 Related links
Teams
Also see
Sonny Bill Williams will definitely be on the All Blacks' end-of-year tour even though he might not play in any games.
That was the word from All Blacks coach Steve Hansen, who said he felt time constraints would restrict Williams' involvement at Test level this year and in 2015.
Williams was granted an exemption to play for the All Blacks on his return from rugby league even though he might not have played for Counties Manukau in the ITM Cup.
"I didn't come out and ask for an exemption," Hansen told New Zealand's Radio Sport.
"What I asked for was I'd like to take him on the end of year tour."
Hansen believes there's a "grey area" over Williams' return to New Zealand due to the fine form of his rugby league club, the Sydney Roosters. The longer they stay in the race for the NRL title, the longer the wait before Williams returns to the 15-man code.
"So they (the board) have decided in their wisdom to get rid of that (grey area) like they did with Luke McAllister when he came back," added Hansen.
"The reasons we want to take him on the end of year tour is because there are very limited Test matches between now and the World Cup.
''If he was to be in a successful Chiefs side next year and they were playing in the final, for example, then he wouldn't be available for some of those test matches."
Hansen said getting Williams familiar with the All Blacks systems again was the main reason for him being rushed back at Test level.
If 2015's Super Rugby compromises his Test chances, "it becomes difficult then to get him back into the ways of the All Blacks'', explained the coach.
''Not so much back in the ways of rugby, because I think he will pick that up very quickly... he has all of Super Rugby to do that, but it's getting back into the way we do things which is subtly different - we have seen that with all the players."
Hansen believes Williams' involvement on the end of year tour would be determined by his fitness and feels the 29-year-old deserves an exemption because of his commitment to return to New Zealand.
"We don't know what physical shape he will be in," said the coach.
"He may come on the tour and not play any games, he may play, we'll have to see."
"He is coming back, he's not leaving. You have a quality, world class player at your disposal.
''Our job is to pick the best team ... he is going to be one of the best players so you pick him."