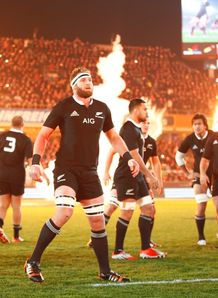 Related links
Teams
New Zealand rugby chiefs on Monday suspended all pre-match fireworks as authorities investigate an accident at Eden Park on Saturday that left three people injured.
New Zealand fan Cecilia Wang was hospitalised with a gash to her forehead and two men suffered minor injuries when a giant fireball primed to go off after the All Blacks finished the haka war dance exploded with more force than anticipated, sending shrapnel into the crowd.
Wang's husband Jimmy said his wife passed out due to blood loss from the wound and that it was lucky no one was killed by the pyrotechnical mishap at Auckland's Eden Park.
"She was just screaming and lost consciousness, she was pouring down with blood. I tried to hold her cut but the blood wouldn't stop, it was like opening tap water, it kept coming out," he told Fairfax New Zealand.
"The piece of metal hit her glasses first and because of that it changed direction and just cut through her forehead."
New Zealand Rugby Union chief executive Steve Tew has apologised to the injured fans and said there will be no more fireworks until an official WorkSafe New Zealand investigation is completed.
"You can consider fireworks currently suspended from anything we do and I just said to our provincial unions that I'll advise them to take the same approach," said Tew.
The All Blacks won the match 51-20 to retain the Bledisloe Cup.