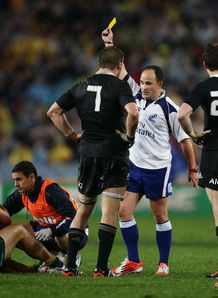 Related links
Teams
All Blacks coach Steve Hansen has admitted that his team's record of conceding yellow cards in recent games requires attention ahead of the second Bledisloe Cup clash against Australia.
New Zealand came desperately close to losing to the Wallabies on Saturday as Wyatt Crockett and Beauden Barrett were both sinbinned in the 12-all draw in Sydney on Saturday.
The All Blacks have now been on the receiving end of seven yellow cards in their last ten Tests and Hansen admitted that his team needed to address the problem.
"If we're not getting continuity and the referee's penalising you, it's difficult to get a dominant platform," he said.
"So we've got to go away and look at some of that stuff, work out if we were in the wrong and, if we were in the right, work out what we were doing to make him think we were in the wrong.
"But there's no point losing sleep over it because you're playing sport and some days you're not going to get the result you want.
"So you've got to be a big boy and take it on the chin and move on.
"[The Wallabies] have confidence in their game and they're all playing for each other," he added on Sunday.
"Australia teams are always tough to play, you get those weather conditions and it makes for a tough night."
New Zealand coughed up the yellow cards and a number of penalties as they endured sustained pressure from the Wallabies and skipper Richie McCaw suggested momentum played a big role in how referees interpret the game.
"Probably the team that has the momentum perhaps gets the rub of the green," said McCaw at the post-match press conference.
"When you are under the pump you are guilty of trying to force things a little bit rather than backing our defence and some decisions went against us because we were on the back foot.
"We need to be a little bit smarter at times especially when we're under the pump that we don't give the ref an opportunity to make the decisions to make it worse."