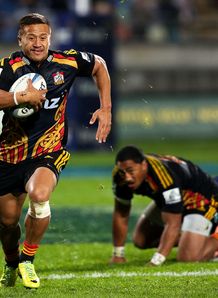 Related links
Teams
Chiefs centre Tim Nanai-Williams has admitted he finds the IRB Regulation 8 rule "intriguing" but is still intent on playing for New Zealand in the future.
The classy back, who has played full-back, wing and centre for the Waikato franchise, is keen to impress New Zealand's selectors in the ITM Cup.
Nanai-Williams has long been on the periphery of international recognition and revealed that he has been in communication with the management.
"I had a yarn with [All Blacks management] mid-year this year, before the June tests," the speedy Nanai-Williams informed the Waikato Times.
"There were a few things they wanted me to do in my game. They want me to work really hard on my defence, and be more aggressive in the outside channels as well.
"If I'm playing wing, to see how I go out there with the real big guys, I've got to show them that I can be physical. I've got to push and take my game to the next level."
However, if things don't work out in terms of a call-up for the All Blacks, he admits that playing for Samoa could be an option as next year's Rugby World Cup approaches.
"I find it intriguing, that rule, but it's not something I have really thought about just yet," he said.
"My goal is still to make the All Blacks, and the end of year tour is definitely the target.
"If I don't make that, then I will probably take a closer look at playing for Samoa. I'd discuss it with my family. It just depends on the feedback and my chances of playing for New Zealand in the future.