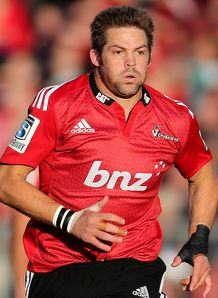 Related links
Teams
Crusaders and All Blacks flanker Richie McCaw has revealed the agony of playing with a broken rib against England last month.
McCaw sustained the injury in the second Test against England in Dunedin on June 14 and played through the discomfort, thinking it was just a bruising. He even featured in the third and final Test in Hamilton a week later with the broken rib.
During that Test, he realised there was a serious problem, however, and said the pain of the rib injury is worse than that of the broken bone in his foot which he played with during the 2011 World Cup.
"By the end of that third test I was pretty sore," McCaw told Fairfax Media.
"With an injured foot it doesn't hurt when you go into contact - it is only when you are running.
"With the foot it didn't even enter my mind, to be honest, towards the end of that World Cup.
"But with the ribs I knew towards the end of the game it was going to cause me a couple of weeks being laid-up. I paid for it afterwards. I was pretty sore."
McCaw played with a broken metatarsal bone - an injury he didn't reveal to his coaches and team-mates - during the All Blacks final matches of their triumphant World Cup campaign in New Zealand three years ago.
Although the pain in his foot was a reminder that he was far from fully fit, he could control where he put it during matches. The fractured rib was a different matter as it was in a much more inconvenient place and he had to battle through the pain barrier.
He struggled to inhale, said sleeping after the third Test was very difficult and didn't bandage his ribs during those last two Tests.
"No. I put a pad on and that was about it," added McCaw.
"They probably got a bit worse during that (third) game but they were pretty sore."
McCaw starts on the blindside flank for the Crusaders in Saturday's semi-final against the Sharks in Christchurch - the first game since suffering the rib injury.
McCaw said he would never tell Crusaders coach Todd Blackadder he was fit if he wasn't as the team would bear the brunt of the consequences of such a decision.
He said he used the same attitude when he told All Blacks boss Steve Hansen that he was fit for the third Test against England.
"If I was going out there and worried about going into contact I wouldn't have played," explained McCaw.
"I felt I could go out there and for the most parts of the game I did. As the game went on I got a few whacks and it got a bit worse.
"I wasn't hesitant about contact and felt it was a good decision to play."