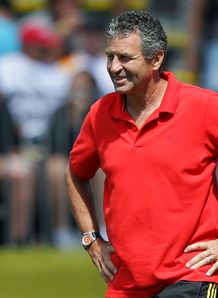 Related links
Teams
Also see
Chiefs assistant coach Wayne Smith is wanted by the All Blacks as they look to defend their title as world champions.
Chiefs boss Dave Rennie revealed that Smith had to choose between staying with the two-time Super Rugby winners or helping his country win back to back World Cups in England next year.
''Obviously now that we're finished we'll have a chat with Smithy," Rennie told New Zealand's Radio Sport shortly after the Chiefs' 32-30 play-off loss to the Brumbies in Canberra.
"There's still a bit of acid on him from an All Black point of view.
''I think New Zealand rugby would probably like to get him involved for that World Cup and you can understand why.
"Ultimately he's committed to New Zealand rugby so he won't be going anywhere, but I guess we [the Chiefs] have to go through some discussions around that.''
Rennie said if Smith decided to return to the All Blacks, who he helped win the 2011 World Cup in New Zealand, it would rule him out of the Chiefs' plans for 2015.
''He's the type of guy a guy who goes into things full on," explained Rennie.
"There are no half measures with him, so I guess he has to get his head around things and make some decisions around what's best for him and his family, that's key in the end.
''There's no doubt New Zealand would be keen to get him involved. He's a superb coach. He's been massive for us and obviously we'd love to have him involved with us again, but there's a bit of pressure there I guess.
''Also he wants to spend a bit more time with the family and he's got his parents down in Putaruru. and so on and so on... Now that we're finished there is a chance to sit down and clarify what's important to him.
"At the end of the day we support whatever decision he makes and it has to be what's best for him and his family.''
All Blacks coach Steve Hansen declined to comment when asked whether Smith would return to the world champions' coaching staff. Hansen is currently being assisted by Ian Foster, who is in charge of attack, Mike Cron, who does the set piece and forwards, and Mick Byrne who concentrates on skills.
Smith could return as a defence coach which will allow Aussie McLean to continue in his new position of analysing opposition sides.
Rennie believes Smith has been asked to return in an on-field role and not as an anaylist.
''If Smithy's involved he'll coach," added Rennie.
"He's a guy who wants to be involved on the grass. He's superb in regard to the analytical stuff, but he's a superb coach and I'd say anyone who gets him involved will want him on the grass.
''As I said there's no half measures with him. He'll either be with us [the Chiefs] and be into it full time or he'll have another option. We're pretty keen to keep him involved, but we'll go through the process and we'll know a bit more in the next few weeks."