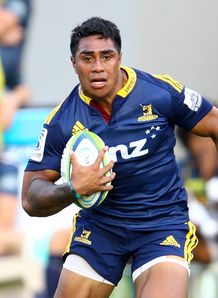 Related links
Teams
Malakai Fekitoa will face the franchise that let him go during the off-season when the Highlanders take on the Blues at Eden Park on Saturday.
The 21-year-old has been in superb form for Jamie Joseph's side in the early campaign, so much so that the All Blacks are monitoring him.
"He has shown us over the last couple of weeks that he is a prospect. So we'll watch him," boss Steve Hansen told the New Zealand Herald.
Fekitoa was a stand-out for Auckland in the ITM Cup and his provincial coach Wayne Pivac has nothing but praise for a player he backs strongly.
"Malakai has improved each year he has played in the ITM Cup," revealed Pivac in his assessment.
"We have done a lot of work with him one-on-one and we have seen a lot of the mistakes come out of his game.
"He would be leading the statistics for line breaks and I also think he's one of the best defenders in the game. His line speed is so good, he gets up so fast that he's in the peripheral vision of opponents.
"This young man has a huge future in the game. He's definitely capable of playing international rugby."
On Saturday he has a big stage to show off his talents and with a clash in front of Sir John Kirwan - who opted for Ma'a Nonu, Jackson Willison and Pita Ahki as his midfield options for 2014 - one wouldn't bet against Fekitoa coming back to haunt his home town franchise.
"We had the opportunity to pick up Ma'a and I had too many midfielders," admitted Blues coach Kirwan when explaining the decision not to contract the now Highlanders star.
"Malakai is a centre and people like Jackson Willison and Pita Ahki cover a few more positions.
"It was a hard decision [to let him go]. He's a good young man and I am really pleased for him. He probably wasn't ready for Super Rugby last year, but he's certainly playing well for them.
"He would have been disappointed that we couldn't contract him. Ideally we would have liked to have lent him to the Highlanders and got him back but you can't do that. So the risk we took was that he would go to the Highlanders and love it down there.
"Sometimes, and I am not saying this is in Malakai's case, guys are in a comfort zone and then they get out of their comfort zone, they can come back and bite you. They realise that life is a bit shorter than they anticipated and they change."