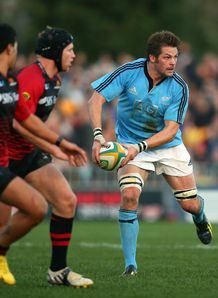 Related links
Teams
Also see
All Black coach Steve Hansen is confident that Richie McCaw will be in perfect condition for the upcoming Rugby Championship.
McCaw played 40 minutes on Friday during a warm-up match against Canterbur, before sitting on the sidelines as his team faced off against Wellington in another 40-minute encounter.
The run out come after the flanker made two appearances off the bench at the back end of the Crusaders' Super Rugby season, having enjoyed 80 minutes of action in a club match as he returned from a seven-month sabbatical.
"I don't think he's going to be good enough, I know he's good enough," Hansen said of McCaw's condition.
There were suggestions that McCaw didn't take part in the second match because of a neck injury, but Hansen insists that his skipper didn't need anymore game time.
"We just wanted him to have a good 40," he said.
"Energy-wise, he felt pretty good and could have gone on and played more, but just the 40 was enough."
For his part, McCaw too is confident that he is finding his feet well and will be in good shape come the start of the Rugby Championship.
"For me, it's trying to make sure I get up to speed and get the feel of the game again," he said.
"Fitness-wise, there's a bit of running there - I certainly burnt a bit, but it wasn't too bad. The big thing is getting your timing, and I'll be better for that run-around.
"A few guys, myself especially, hadn't played for a while. We didn't get too carried away with how we were going to play, it was just a matter of getting some contact and getting through some footy," he added.