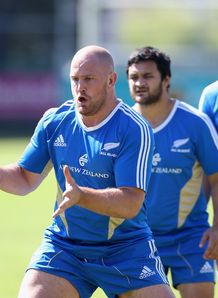 Related links
Teams
Also see
The All Blacks are preparing to face Australia on Saturday without the presence of head coach Steve Hansen whose father is seriously ill.
New Zealand's Rugby Championship winning side assembled on Sunday to gear up for the third Bledisloe Cup Test in Brisbane.
On Monday assistant coach Ian Foster said Hansen will be spending the majority of his time at his father's bedside in Christchurch but insisted that the head coach was still deeply involved in the planning and that their preparations would not be adversely affected his absence.
Richie McCaw and co. are seeking to their 17th consecutive Test win to equal the mark set by the All Blacks from 1965-69 and the Springboks in 1997 and 1998. Lithuania hold the official world record at 18.
"The best thing we can do for him right now is to give him time with his family and do a very good job of preparing for what is going to be a really exciting Test match," said Foster.
"We will just carry on as normal. We've got good structures and good people in the team and we're trucking along."
"The beauty about this team is that we get into really good routines as to how we prepare and we know if we prepare well from Sunday to Monday it gives us a great opportunity to play well on Saturday night.
"Things will happen if we do the process well."
"We are certainly aware of (the record), but there are a few factors this week for us. We've got Kevvie's (hooker Keven Mealamu) 100th Test which is pretty special," added Foster.