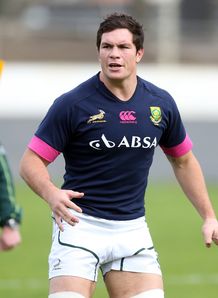 Related links
Teams
Also see
South Africa breakdown coach Richie Gray believes the tackle area battle is set to lift in intensity again this year in the upcoming Rugby Championship.
Gray said that his outfit were the top breakdown team last year but was impressed by what he's seen since, especially from the Wallabies.
"The breakdowns are becoming more of a war each year, last year every time you looked at a paper it's the battle of the breakdown," he said.
"This year it is going to lift it again, looking at Super Rugby, I think the Australians have made a step forward there.
"Everybody has put more importance on it every year building towards the World Cup."
Gray, who was a consultant to the Boks last year, was given a full-time position for 2014 due to the importance of the breakdown to Heyneke Meyer.
"Anything that happens a 140 times approximately in a game has got to be important, attacking and defensive breakdowns have played a massive part [in] where the games are going to end up," he continued.
"And you've got to be dominant and accurate there, so every team is putting more onus on that area."
He added: "We started last year and I though I've made some good strides, but it is a three-year plan and that culminates next October (at the World Cup)."
"If you take the Championship last year, we actually ranked on retention and turnover the best, but the difference at this level with New Zealand, Australia, ourselves, England... that top five or six times it comes down to one percent.
"We've got some phenomenal players in this country with great mentality, physicality and maybe getting more accurate is something we need to work on."