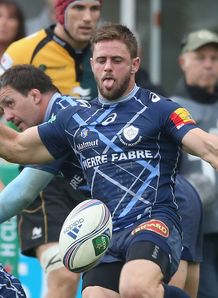 Related links
Teams
Also see
Serge Blanco is ready to start a radical overhaul of the French international squad according to reports, starting by blocking the call-up of Rory Kockott.
The former France full-back and vice-president of the FFR is set to take a more hands-on role with the national team to support Philippe Saint-André.
The first signs of his influence have become apparent with reports in Le Figaro that Blanco is against a call-up of South African-born Kockott, who was expected to earn an opportunity this November when he became eligible for France.
While Kockott would be far from the first import to play for Les Bleus - Antonie Claassen and Bernard Le Roux are both in the protected French squad - he would be the first scrum-half, arguably the most important position in French rugby.
And Blanco appears far from convinced that selecting Kockott would be the solution to the current run of poor results.
"It would be serious to wait for one player like that," he said. "I'm much more interested in our style of play."
Kockott is not the only player who could find himself out in the cold, with Frédéric Michalak's position coming under threat unless he can establish himself as a first team regular at Toulon.
Blanco did not hold back in his view on players who aren't first choice for their clubs, and Michalak's absence could open the door for Trinh-Duc, who is reportedly a lot more popular with Blanco than backs coach Patrice Lagisquet.
"If a player chooses to play in a club where he is guaranteed to play [it's a problem]," he said. "We don't want players who only come on for the last ten minutes anymore."