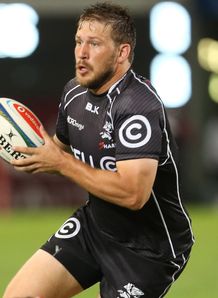 Related links
Teams
As backline injuries continue to plague Springbok boss Heyneke Meyer, his staff must take extra care to "manage" Frans Steyn's problematic knee.
The damage to Steyn's niggling joint is well-documented, but the ever-increasing body count in the Boks treatment room is a cause for concern for Meyer ahead of this month's Tests.
Skipper Jean de Villiers has been ruled out, with the rejuvenated Victor Matfield taking over the captaincy, alongside long-time midfield partner Jacque Fourie, and Stormers ace Damian de Allende the latest back to pick up a knock.
Steyn's case is a little awkward: the Boks medical staff are confident they can "manage" his injury, and that he can play out 80 minutes so long as the load of the affected join does not grow too demanding.
"We have ben talking to them [the Sharks] a lot in terms of how they've been managing him," said team doctor Craig Roberts.
"He obviously has a chronic problem with his knee, where there is a bit of cartilage missing.
"Every now and then, when he does too much, particularly too much kicking, his knee swells up and it flares up.
"He can play 80 minutes, we just have to make sure his load is managed," Roberts said.
"It is related to the amount of fluid that builds up in his knee - it is something he has had for a long time.
"He has had surgery on that knee on a few occasions. It is about looking after the player and making sure he can perform at the weekend.
"It is something he will have to manage for the rest of his career.
"It is the kicking that flares it up - he can kick perfectly during the game, it is just volume during training."