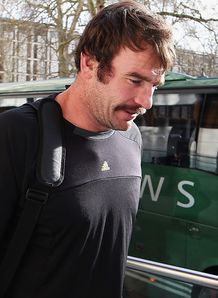 Related links
Teams
Also see
New Zealand hooker Andrew Hore has been given a five-week suspension for striking Wales lock Bradley Davies last Saturday in Cardiff.
Hore was originally handed an eight-week suspension but had three weeks knocked off for his exemplary disciplinary record, good conduct at the hearing and genuine remorse over the incident.
Davies was forced to leave the field and sent to hospital following the blindside shot, with both fans and the media widely condemning Hore for his actions.
The ban means Hore will be unable to play again until 24 February 2013, meaning he will miss this weekend's Test against England at Twickenham along with all of the Highlanders pre-season matches and the first clash of the new Super Rugby season.
"I want to say how bad I feel and how embarrassed I am to be in this situation," Hore told the New Zealand Herald.
"It is not the All Black way and I have let myself down and the team and probably the whole country is pretty proud of what we do.
"I hope Bradley Davies does recover and get back up and running and play in the Heineken Cup as soon as he can.
"I have been on the phone and talked to him on Sunday about the incident and obviously the All Black management and the leader group that I am a part of has been pretty stern on me for getting us into this situation and I have to take what I have got and go back and start building a reputation as a good, clean, hard footy player and hopefully I can do that in the next Super Rugby competition when I get back playing."