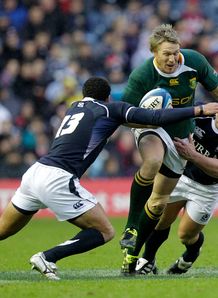 Related links
Teams
Also see
Springbok captain Jean de Villiers believes he made the right calls in choosing to turn down a handful of kickable penalties in favour of setting up attacking line-outs in Saturday's win over Scotland.
South Africa scored their first try from a rolling maul after a line-out set up by a penalty and it was a tactic that also worked well against Ireland.
"The decision not kick for poles comes down to gut feel," said De Villiers.
"The first one only just never worked for us, but then it worked for us later on. All the players gave me backing for my decision, and we felt we got it right most of the way.
"A lot was said last week about Scotland scoring three tries against New Zealand, the No 1 team in the world and we managed to keep them out so I think its something that is sustainable.
Springbok coach Heyneken Meyer added that the decision to go for line-outs rather than three-pointers was based on their plan to put Scotland under pressure.
"We decided beforehand that we were going to put them under pressure as we knew they would come out firing and eager to get their crowd in behind them and to get a foothold in the game," said Meyer.
"We succeeded in what we set out to do. We kept them in their half for the first 20 minutes. The first call not to kick was a 50/50 call, but I thought our tactics worked well. Our tactical kicking was superb in the first half, and I thought Patrick Lambie really played well before halftime. But the second half was a bit like the first half last week in that you can't really influence the game with tactical kicking when you don't have the ball."
"It's hard to say what happened (in the second half) but I think the Scots lifted themselves after they scored their try off a line-out set in the corner off a penalty.
"That gave them momentum, and they knew that if they just played the game in our half, they could play off penalties that we conceded. It was very frustrating and something we are going to have to redress.
"But while I always hate to be seen to be making excuses, I also want to add that it has been a long and tiring year for us. I think there were quite a few players that just never had a second 40 minutes in them today."