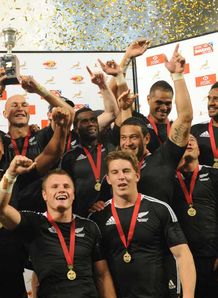 Related links
Teams
Port Elizabeth's Nelson Mandela Bay South African Sevens Tournament has moved to a weekend format due to popular demand.
The tournament, which is the third round in the HSBC Sevens World Series 2012/13 and features the 16 best Sevens rugby teams in the world, will now take place on the weekend of Saturday and Sunday 8-9 December 2012.
The starting time is 24 hours later than the original scheduled date.
Andy Marinos, the South African Rugby Union (SARU) general manager for commercial and marketing, said the move to the weekend was taken after research among supporters and would benefit all the major stakeholders and, most importantly, the fans.
"Research amongst all our stakeholders has shown a strong preference for Saturday and Sunday play," he said.
"We're delighted to announce the tournament will move from a Friday, Saturday format to a weekend date. The rescheduling is in line with most of the other popular Series tournaments.
"We are confident that the new dates will allow even more fans to attend and enjoy the thrilling international Sevens action," said Marinos.
Last year, the inaugural Nelson Mandela Bay SA Sevens tournament was a huge success, with more than 11 000 fans watching the first day's action on the Friday while 30 000 turned up to watch the last day's action on the Saturday.
Marinos revealed that fans will be in for another exceptional rugby treat this year.
"SARU have partnered again with Nelson Mandela Bay Tourism to package a number of attractive events for the week of the tournament," he said.
"Some of the main attractions include a music concert on the Saturday night and the PE Tens tournament, which we believe will add considerable value to the fans' overall experience."