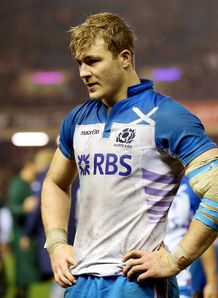 Related links
Teams
David Denton believes Scotland must emerge dominant from the breakdown battle in Saturday's Test against Australia at Murrayfield.
The Edinburgh back-row is adamant that this aspect of game-play is crucial to the hosts' success, and one on which they have regressed since their June fixtures in South Africa.
"The solution is simple - we have to fix our breakdown," Denton told the Dundee Courier.
"In June, we were really good against South Africa on their own turf because we got that part of our game right.
"Our movement at the breakdown was a second and a half faster than theirs - and that is a lot.
"Essentially, in modern international rugby the only way to get on to the front foot is to win the breakdowns.
"If you are too slow, you will get hit back - so this week there will be a massive focus on that before we take on Australia."
Zimbabwean-born Denton knows the importance of the breakdown to attacking play; even more so when facing one of world rugby's top flankers in Michael Hooper.
"If we want to get forward and score against them, we must be efficient in this department," added Denton.
"You only have to look at their guy Michael Hooper. He has been performing brilliantly. Not only will we have to get it right, we will have to nullify him.
"The most frustrating aspect of our breakdown play is that it changes from game to game. What we need is some consistency."
And the back-row echoed the sentiments of Duncan Weir on Monday, maintaining that he and his team-mates were good enough players to redress the balance.
"We can do all these things - we have shown we can play rugby in that manner. You need a tough mindset and one of the positives we took from the Springboks match was that we didn't fold," acknowledged Denton.
"In that situation the floodgates could have opened, but we showed a lot of character in the second half and held them back for a long time.