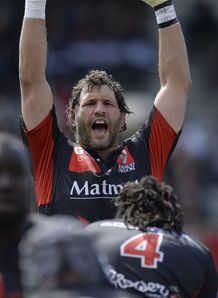 Related links
Teams
Former France captain Lionel Nallet has announced that he will retire at the end of the 2014/15 season.
The 37-year-old was tipped to hang up his boots at the end of last season, having helped Lyon back into the Top 14, but decided to play on for one more year to help them beat the drop.
He arrived in Lyon in 2012 along with former France and Racing-Métro team-mate Sébastien Chabal, who retired this summer, having previously spent time at Bourgoin and Castres.
He amassed 74 caps for France, captaining them 16 times and winning three Six Nations titles, including a Grand Slam in 2010.
After giving up the captaincy to Thierry Dusautoir, he remained a key member of the squad, and started the 2011 World Cup final which France eventually lost 8-7.
Speaking to RMC Sport, he admitted that the toll of 16 years of rugby has begun to take its toll as he prepares for one last campaign.
"I'm starting to get tired, and I've also got quite a few other activities that I'm doing alongside rugby, so it's not easy to manage everything all the time," he said.
"It's time for me to retire. I will help the club make the transition and stay up in the Top 14, and then I'll have finished my job."