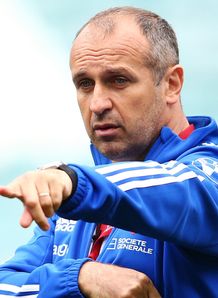 Related links
Teams
Also see
France boss Philippe Saint-André has hit out at the "know-it-alls" in French rugby as he begins preparation for the November Tests.
The French coach has faced heavy criticism for the disappointing results of Les Bleus during his tenure, most recently during the 3-0 series whitewash in Australia.
And the big news in the French national set-up this summer was former full-back Serge Blanco's move into a new role which will see him work more closely with the French team, although it remains to be seen exactly what his new position will entail.
But despite Blanco's arrival, Saint-André remains defiant, especially with regards to those who have criticised his tenure.
"Serge Blanco is part of the FFR and takes care of the relationship between the league and the federation," said Saint-André.
"He was in Marcoussis for a management committee so we had a coffee together.
"We'll go into more detail in the next few weeks.
"In French rugby there are a lot of know-it-alls, but a World Cup year is different. The players will be have lots of time to prepare.
"We'll announce a list of 31 players at the start of September.
"We've been meeting with Yannick Bru and Patrice Lagisquet to prepare this season and the November Tests against Fiji, Australia and Argentina.
"We know that the French players always raise their game for the November Tests.
"Then we have the Six Nations which is always important before the preparation for the World Cup where the players should have two and a half months to get ready."