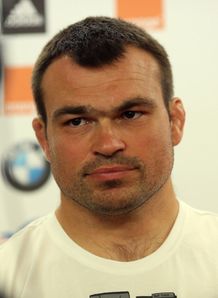 Related links
Teams
France prop Nicolas Mas has voiced his frustration at his apparent struggle to adapt to the new scrum protocols imposed by the IRB.
The cornerstone of the French scrum for many years and a veteran of two World Cups and nine Six Nations Championships, Mas has not been the dominant force at scrum time that made him one of the world's most highly-rated tightheads in the game in years gone by.
Mas stormed out of a press conference on Tuesday in reaction to criticism of France's scrum and tight play in the wake of last weekend's lacklustre victory over Scotland.
The Montpellier prop was visibly irritated by the line of questioning by the gathered journalists, who suggested France have been too slow to react to scrum law changes.
"I don't know why, you tell me," snapped Mas when asked why the French have not enjoyed the scrum dominance of the past.
"I have been doing the same things for 10 or 15 years, you want me to change overnight?
"It [the scrum] is like a child who has lost its bearings, how far will it go?
"It's a real shame."
"If were going towards the scrum just going to become a way to restart the game, then I would have quit the game a long time ago.
"The scrum is not as important as it was before, now teams are just working to avoid penalties.
"We don't judge the scrums on penalties, what strange logic," said the 33-year-old, hinting that referees and journalists don't always understand the finer details of the battle at scrum time.
As tensions rose, one journalist jokingly remarked that the media understood that les Bleus were not playing poorly on purpose.
"This is not funny," retorted Mas, before prematurely walking out of the press conference.