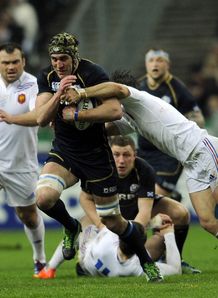 Related links
Teams
Also see
Victory over an embattled France is not beyond Scotland on Saturday, but success at Murrayfield demands a much-improved performance.
Any Scottish fan will tell you that rugby's most tired of clichés - "it depends which France turn up" - rings almost as true for their team as it does their cross-Channel cousins.
Granted, in the professional era, the Scots have seldom produced the irrepressible Gallic brilliance of les Bleus in full flow, but their maddening Jekyll-and-Hyde tendency to combine the encouraging with the suicidal is just so perfectly French.
Now, in Scott Johnson, they have a coach whose own propensity for entertainment, absurdity and nonchalance in equal measure matches the ups and downs of their rugby.
Kelly Brown, the captain harshly banished from the previous two match-day squads, returns to the starting line-up as skipper on Saturday. Still playing in his second-best position on the openside flank, Brown's athleticism will be a crucial addition to an imbalanced back-row packed with power and dynamism, but short on breakdown guile.
Chris Cusiter - the pick of Scotland's scrum-halves - is unlucky to miss out on selection; Johnson's continued backing of Greig Laidlaw suggests he is not yet ready to saddle young duo Duncan Weir and Stuart Hogg with the burden of Test goal-kicking duties.
Ex-Scotland veteran Nathan Hines rightly highlighted the scrummage as a potentially decisive battleground this week: a dominant set-piece is a colossal advantage in elite rugby; yielding possession, penalties and points - the Scots struggled to match the Italian eight up front in Rome.
Geoff Cross' introduction just before half-time shored up the tighthead side after Alberto de Marchi spent 37 minutes condensing Moray Low's cervical spine, and though lacking the force of old, Euan Murray's sizeable presence on the bench is a major boost.
Matches involving France are fiendishly difficult to call: on the one hand, Saturday's visitors to Edinburgh are missing five of their very best players through injury or suspension; on the other, following on from a Cardiff trouncing, and knowing a win is vital to keep their title hopes alive, the French are sure to be fired-up.
Philippe Saint-André is without his entire first-choice back-row - Thierry Dusautoir and Yannick Nyanga are injured, while the coach axed Louis Picamoles for disrespecting referee Alain Rolland in Cardiff - so has plumped for a new trio across le troisieme ligne.
It's a laudable but gutsy move from the boss to intentionally do without the superhuman ball-carrying of Picamoles, and another to task much-vaunted 6ft 8in Perpignan second-row Sébastien Vahaamahina to fill the void on the blindside flank - a position he has played only once internationally.
With so many big men capable of wreaking such havoc with possession, the back-row duel will be bruising. Picture 110kg of Dave Denton colliding at speed with 120kg of Vahaamahina.
Indeed, much will depend on whether the French pack, posted missing in Wales, pitch up at Murrayfield frothing at the mouth and ready for a scrap. Nicolas Mas has not adjusted especially well to the law changes at scrum-time, but remains a fearful prospect in the tight alongside Thomas Domingo. Skipper Pascal Papé needs a big game too: the second-row cannot match the leadership qualities of the sidelined Dusautoir, and let his frustrations get the better of him in Round Three.
Out wide, France have the upper hand though bereft of the dazzling creativity of Wesley Fofana at inside centre. It is also quite incredible that Saint-André continues to prefer the cumbersome stodge of Mathieu Bastareaud to Gaël Fickou's game-breaking flair in midfield.
Scotland must target the inexperienced half-back pairing of Maxime Machenaud and Jules Plisson, cut down their time on the ball and hope to force errors. It is likely the Racing Métro nine will be handed the goal-kicking duties, but worth noting that he is not first-choice for the Parisian club. Indeed, without Morgan Parra, Saint-André boasts neither a top place-kicker, nor a specialist kicking coach on his staff. Even against the oft-impotent Scots, France cannot afford to leave points on the table.
A glance over the visitors' teamsheet suggests Scotland have never in recent memory been handed such a fine opportunity to get one over on the French. No Fofana, no Parra, no Picamoles, no Dusautoir, no Nyanga, a disgruntled coach and a 27-6 loss in their last outing. But it would be foolish to take anything for granted where France are concerned, no matter how tightly their backs appear to be jammed against the wall. After all, isn't that when they're at their most dangerous?
Players to watch:
For Scotland: Keep an eye on captain Brown, who will be itching to set the record straight on his return to the national setup, and who will be tasked - rightly or wrongly - with the bulk of the scavenging duties.
For France: Fly-half Plisson must step up to the plate on Saturday against fellow Test rookie Weir. It could be a scrappy, forward-dominated slugfest on the churned-up Murrayfield turf, and les Bleus' pivot will need to run the show from first-receiver and keep the Scots pinned back in their own half.
Head-to-head: While the battle for breakdown ascendancy will be huge, the aerial tussle between Jim Hamilton and Papé should prove equally pivotal. After a string of disastrous lineout performances, Scotland finally clicked against the Azzurri, where "Big Jim" marked the card of Leonardo Ghiraldini and co. A similar display will ensure the hosts keep the ball and further frustrate their volatile visitors.
Previous results:
2013: France won 23-16 at Stade de France, Paris
2012: France won 23-17 at Murrayfield, Edinburgh
2011: France won 34-21 at Stade de France, Paris
2010: France won 18-9 at Murrayfield, Edinburgh
2009: France won 22-13 at Stade de France, Paris
2008: France won 27-6 at Murrayfield, Edinburgh
2007: France won 46-19 at Stade de France, Paris
2006: Scotland won 20-16 at Murrayfield, Edinburgh
2005: France won 16-9 at Stade de France, Paris
2004: France won 31-0 at Murrayfield, Edinburgh
2003: France won 51-9 at Stadium Australia, Sydney (RWC)
2003: France won 38-3 at Stade de France, Paris
2002: France won 22-10 at Murrayfield, Edinburgh
2001: France won 16-6 at Stade de France, Paris
2000: France won 28-16 at Murrayfield, Edinburgh
Prediction: A last-gasp triumph in Rome hasn't converted the Scots from listless whipping boys to world-beaters overnight, but it has instilled new-found belief and confidence in the side. You are never really sure what France will bring to the party; one can't tell whether they will swoon through the Murrayfield gates brandishing a lavish supply of Moët-branded champagne, or stagger down Roseburn Street glugging from bottles of supermarket plonk. If you enjoy rugby betting, it's a tough one to call.
The pitch and the weather forecast points to an arm-wrestle, however, and with a capacity crowd behind them, I'm going to stick my neck out and back Scotland to thwart and stifle les Bleus, win penalties, and kick their way to a three point victory.
The teams:
Scotland: 15 Stuart Hogg, 14 Tommy Seymour, 13 Alex Dunbar, 12 Matt Scott, 11 Sean Lamont, 10 Duncan Weir, 9 Greig Laidlaw, 8 Dave Denton, 7 Kelly Brown (c), 6 Johnnie Beattie, 5 Jim Hamilton, 4 Richie Gray, 3 Geoff Cross, 2 Scott Lawson, 1 Ryan Grant.
Replacements: 16 Ross Ford, 17 Moray Low, 18 Euan Murray, 19 Tim Swinson, 20 Ryan Wilson, 21 Chris Cusiter, 22 Duncan Taylor, 23 Max Evans
France: 15 Brice Dulin, 14 Yoann Huget, 13 Mathieu Bastareaud, 12 Maxime Mermoz, 11 Maxime Médard, 10 Jules Plisson, 9 Maxime Machenaud, 8 Damien Chouly, 7 Alexandre Lapandry, 6 Sébastien Vahaamahina, 5 Yoann Maestri, 4 Pascal Papé, 3 Nicolas Mas, 2 Brice Mach, 1 Thomas Domingo
Replacements: 18 Guilhem Guirado, 17 Vincent Debaty, 18 Rabah Slimani, 19 Alexandre Flanquart, 20 Antoine Claassen, 21 Jean-Marc Doussain, 22 Remi Tálès, 23 Gaël Fickou
Date: Saturday, March 8
Venue: Murrayfield
Kick-off: 1700 (local and GMT)
Weather: 9C, rain during the morning and early afternoon, forecast to clear up just prior to kick-off
Referee: Chris Pollock (NZ)
Assistant referees: George Clancy (Ire), JP Doyle (RFU)
By Jamie Lyall
@JLyall93