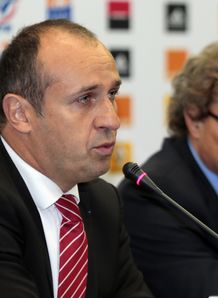 Related links
Teams
Also see
France coach Philippe Saint-André has revealed that les Bleus are entering a "sprint" towards the 2015 Rugby World Cup, which is to be hosted in England.
The 2011 runners-up take on Australia, Argentina and Samoa in November, with RWC seedings holding a major importance for the head coach.
"These November tests have never been as important," said France's former captain and wing after unveiling a 33-man training squad.
"They are not just November test matches. We are fifth in the International Rugby Board rankings.
"The draw for the four pools for the World Cup is in London on December 3 and if we can gain a place in the rankings we will be a top seed, which has rarely happened in France. It would be fantastic."
But Saint-André couldn't resist a dig at the Top 14 calendar as well as the European Cup schedule for not giving him more time to prepare his squad.
"We are entering the sprint stage for the 2015 World Cup," said Saint-André.
"We have a particular type of system which sees us play against countries who are more like clubs, because they have had so much time together.
"We only have three days together (the training camp November 2-4) but we are going to beat them with the rich talents of the Top 14."
Saint-André, who had a modest opening Six Nations campaign where France finished fourth, said that he had decided to retain faith with a large part of the inexperienced squad that tied a two match series with Argentina in South America in June.
"We have remained coherent in our selection, there are 20 from the Argentina squad because this group (who toured Argentina) is the bedrock of the French team," he said.
"After them there are three who we rested for the Argentina tour and have recalled: Nicolas Mas, skipper Thierry Dusautoir and Vincent Clerc.
"We have also been logical in our selecting those players who are in form in the Top 14 like Yannick Forestier, Damien Chouly and Jocelino Suta, who is the first choice in the side (Toulon) that is top of the Top 14.
"After that we maintain, because we still have a little time, having a young player in each line in the scrum and backs, players who we think have a huge potential but who may not yet be ready but we hope will be in 18-20 months."
Saint-André, who coached at club level English sides Sale and Gloucester and French outfits Bourgoin and Toulon, said that the youngsters would learn a lot from the three day training camp.
"They will come here, see the systems we use, how they work, live with the players from the French team... They will be three important days," he said.
"The tests against Australia and Argentina will be revealing for us.
"The Australians have been together for four-and-a-half months and are preparing for their tour with a friendly against the All Blacks on Saturday.
"It is not a country we are playing, it is a club! Argentina will never have been better prepared than for the match with us.
"They have also been together for four months and played in the Four Nations championship.
"For us it is an exciting challenge. We have only three days to really work with the 33 players.
"There will be a good training session on the Sunday of the training camp and if a youngster plays out of his socks during the afternoon and is the best of the 30 then we will keep him for the first Test."