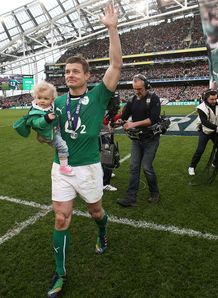 Related links
Teams
A factfile of Brian O'Driscoll, who bows out of Test rugby on Saturday, which includes his win record and a career timeline on the international stage.
Full name: Brian Gerald O'Driscoll
Birthdate: January 21, 1979
Birthplace: Dublin
Major teams played for: Leinster, Ireland, British and Irish Lions
Position: Centre
Height: 5ft 10in
Weight: 205lbs
Test record (matches, starts, substitute appearances, points, tries, drop goals, won, lost, drawn, win %):
Ireland: 132 131 1 245 46 5 79 51 2 60.60
Lions: 8 8 0 5 1 0 2 6 0 25.00
Total: 140 139 1 250 47 5 81 57 2 58.57
Key moments:
1996: Makes Ireland schools debut.
1999: Wins three Ireland Under-21 caps.
1999: In June makes Test debut against Australia in Brisbane.
1999: In August makes provincial debut for Leinster.
1999: In November scores first international try, against the United States at that year's World Cup.
2000: Scores a stunning hat-trick of tries as Ireland beat France 27-25 - their first win in Paris in 28 years.
2001: Selected for British and Irish Lions tour of Australia. Plays in all three Tests in a 2-1 series loss.
2002: First given Ireland captaincy.
2003: Appears in second World Cup where Ireland lose 43-21 to France in the quarter-finals in Melbourne - Ireland great Keith Wood's final Test before retirement.
2004: Made permanent Ireland captain. Leads Ireland to first Triple Crown for 19 years.
2005: Named Lions captain for tour of New Zealand.
June 25 - Ruled out of the rest of the Lions tour after dislocating his left shoulder in the first 90 seconds of the first Test against the All Blacks in Christchurch after a controversial spear tackle by Tana Umaga and Keven Mealamu.
2007: On March 17 surpasses Wood's record of 36 Tests as Ireland captain in a 51-24 win over Italy in the Six Nations.
2007: Appears in third World Cup where Ireland, disappointingly, fail to get out of their pool.
2008: Captains Leinster to the Celtic League title.
2009: In March leads Ireland to only their second Grand Slam - their first since 1948. Scores four tries in five Tests as he is named player of the tournament.
2009: In May drops a goal as Leinster beat Leicester 19-16 to win the European Cup final.
2009: In June plays two Tests on the Lions' losing tour of South Africa, but misses the third with concussion.
2010: In January voted World Rugby player of the decade by Rugby World magazine.
2011: On March 19 scores a record 25th Six Nations try in a 24-8 win over England.
2011: On May 21 wins his second European Cup as Leinster beat Northampton 33-22.
2011: In October, at his fourth World Cup, leads Ireland to the quarter-finals where they are beaten 22-10 by Wales in Wellington.
2012: On May 19 helps Leinster retain the European Cup with a 42-14 win over Irish rivals Ulster.
2013: On March 20 suspended for three weeks, having been cited for stamping in Ireland's final Six Nations game against Italy.
2013: On April 30, selected for his fourth Lions tour.
2013: In July controversially left out of the match-day 23 for the Lions' series decider by coach Warren Gatland - who as Ireland boss gave him his Test debut -- but the combined side beat Australia in his absence.
2013: In November plays in Ireland's heart-breaking last gasp 24-22 loss to New Zealand -- a result that denies the Irish a first win over the All Blacks.
2014: On March 8 becomes world's most-capped player of all time when he makes his 140th Test appearance, and last at home, in a 46-7 Six Nations thrashing of Italy where he lays on three tries.