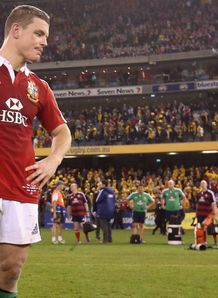 Related links
Teams
Brian O'Driscoll claims he has set aside all thoughts of his future after rugby as he prepares for his final Six Nations campaign.
The veteran centre is also keen to move on from his infamous Third Test selection snub at the hands of British and Irish Lions coach, Warren Gatland.
O'Driscoll's Ireland will go head-to-head with Gatland's Wales in Round Two of the tournament, and the midfielder admits that, while he bears no animosity towards the New Zealander, he is relishing the prospect of beating his team.
"What happened, happened, no one can change it," the 35-year-old told the Belfast Telegraph. "I don't have any ill-will towards Warren.
"When it was raw afterwards your emotions are a bit different. Time does heal all wounds and I don't have any animosity towards him.
"What I will look towards is just trying to be involved in a team that can potentially beat his team, but that's next week.
"The coaching thing at the moment doesn't really float my boat.
"Before Christmas I started thinking too much about the afterlife. There's no rush.
"I'll just enjoy the Six Nations and hopefully the knock-out parts of the Heineken Cup.
"Hopefully I can try to win some silverware, and once the season's done and dusted and the boots are finally hung up, there will be plenty of time to think about what the next plan is.
"I don't want to look back in a year's time and regret not having given this time everything. That's why I'm focusing solely on rugby and all other thoughts are on the back-burner."
The talisman centre also lauded the impact of Ireland's recently-appointed head coach, Joe Schmidt, with whom he worked at Leinster. Moreover, O'Driscoll praised team-mate Leo Cullen, who will step into the backroom at the RDS from next season.
"I think Joe's brought a lot of his traits that we've seen over the years into this job," said O'Driscoll. "That's what got him promoted to this job.
"But like all good coaches he's always trying to evolve, he's a big thinker of the game.
"I don't know anyone who would do more analysis than Joe Schmidt. He has an insatiable appetite for the game, you can see it in everything he does.
"We have strict timelines to how long we spend on the park. You've got that time to get it right, so get it right.
"That mentality switches into the players very quickly.
"I think it's important we get some Irish coaches, we have some great thinkers in the game, and Leo Cullen's definitely one of them.
"Physically he might not be in the condition he was a few years ago, but because he's so smart and such a clever player, he identifies short cuts, and I think he'll have an awful lot to offer from a coaching perspective."