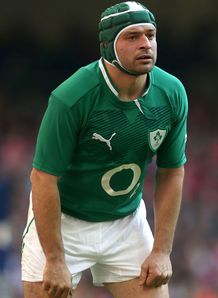 Related links
Teams
Ireland hooker Rory Best says his side can bounce back from a disappointing defeat to Australia against New Zealand in Dublin on Sunday.
The Ulster number two spoke of his frustration at the Irishmen's inability to capitalise on their opportunities, and their slack defence that played its part in the Wallabies' four tries.
"I think when you look back and let the dust settle on that (Australia) game - and we've been through it - it was very frustrating because we created a lot," Best told the Belfast Telegraph.
"It's one of those where if you hadn't seen the game and hadn't seen the scoreline you would have looked and have seen Ireland conceded very few penalties and you'd have assumed that, at home, we would have won it because the one thing we pride ourselves on is our defensive ability.
"We don't concede many tries and we didn't concede many kickable penalties so you'd have assumed that we would have done well.
"It was just disappointing to concede four tries in the manner we did, so from that point of view we've had a look at it and a lot of the stuff that we did wrong on Saturday is very much fixable."
Best is under no illusions regarding the challenge facing Ireland when the All Blacks arrive at the Aviva Stadium on Sunday.
"We know there is a bit of fear because we know if we don't turn up against New Zealand and stand off against them then they have guys a lot more capable than Australia of running away for tries," added Best.
"We need to bring a physicality that we probably haven't brought before in an Ireland shirt.
"There is no doubt we're playing the top team in the world, 13 games unbeaten this year.
"Now is the time; we've shown against Australia we can create opportunities, but it's time to go out and make a bit of a statement that we have top quality players within the provinces and in the European Cup who stand out head and shoulders against the best players and teams in Europe.
"It's now time that we bring that all together. The last two games - although the Australia game probably didn't feel like it, have brought things forward in terms of bringing that together and showing what the players in this country are capable of doing."