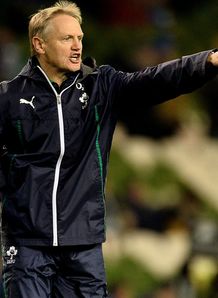 Related links
Teams
Ireland head coach Joe Schmidt remains in the dark regarding the severity of Jonathan Sexton's hamstring injury.
Sexton was forced to depart after half-time in the 32-15 loss to Australia and is now a major doubt for next weekend's clash against the All Blacks.
The Racing Métro number ten was rested against Samoa last week and Schmidt stated that results of a scan would determine how long Sexton would be ruled out for.
"He has a hamstring injury, we're just sure of the extent of the injury at the moment," said Schmidt.
"To be honest it's too early to tell. He felt it wasn't particularly bad and he pulled up quickly.
"But it's out of our control, we just have to wait and see what happens and wait for the results of the scans.
"We'd given Johnny a weekend off and a refresher and we thought we'd get two big weeks out of him, so it's really disappointing.
"Rob Kearney's not too bad after his knock, someone just landed on his rib and he was sore from something he picked up last week.
"We're pretty hopeful he'll be available for next week."
Reflecting on a drab performance in which Ireland conceded four tries due to multiple defensive lapses, Schmidt described his team as being "naive" and underlined the need for his team to adapt.
"I'll put a few fingers in a few different spots to be honest," added Schmidt.
"I thought there was a fair bit of defensive naivety, but I did think we came back into the match extremely well.
"It was very hard to get them off the ball, and that made it extremely difficult to get onto the front foot. One of the things that would account for that, Jonny Sexton hadn't trained a lot.
"Ian Madigan didn't really get much of a look-in and then was expected to run the show for the second half. That was a big ask, particularly when they were getting off the line so quickly.
"Because we were squeezed for space we didn't get to pick our kicking options, and that forced us into problems.
"In a game seldom does everything go according to plan, and you've got to be adaptable enough to cope.
"And we undid ourselves at times as well, Conor picked the ball out and one of our own players held onto it. That's part of the disconnect we've got really at the moment.
"I don't think we're any further forward than we were last week after Samoa, and that's a big disappointment, because we want to keep making progress week to week."