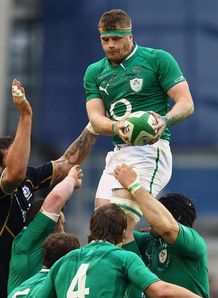 Related links
Teams
Ireland number eight Jamie Heaslip said he is "humbled" and "proud" to lead his country in Saturday's Test against South Africa in Dublin.
With regular skipper Brian O'Driscoll, Paul O'Connell and Rory Best all injured, Ireland coach Declan Kidney chose Heaslip ahead of his Leinster team-mate Jonathan Sexton as captain.
Heaslip, who is yet to be on the losing side when standing in as captain at Leinster, admits that he was surprised when Kidney gave him the news.
"I was getting my mate an engagement card when I got the heads up from Declan about it," he said.
"I was in Tesco and I didn't know what to do with myself. I felt like going out and celebrating. It felt like my first cap again.
"I received a text from (Leinster chief executive) Mick Dawson about my record, so no pressure there!
"It's great. I rang my parents straight away and I'm humbled by the decision. I'm proud to lead this group.
"Once we get on to the pitch everyone will be on automatic pilot because we have such great leaders within the team. It's talking after the dinner that's got me more nervous than anything else."
Kidney is convinced Heaslip is the right man for the job.
"We talked with Jamie about the job and he's shown good potential with Leinster," he said.
"Although he'd probably deny it, Jamie is the consummate professional. When he turns up for work he's really zeroed in.
"That's a good place to start - leading by example. He's been part of this group for a few years now. There were other guys holding their hands up for the job but the time is right for Jamie.
"Who should be the next captain has been in my mind for a while.
"We'd been working on a new leadership group over the past year to make sure that when the day did come, it would be more of a natural progression than a shock to the system."