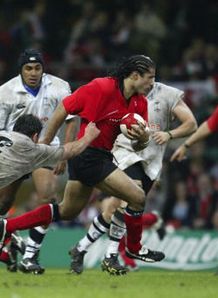 Related links
Teams
Former Wales flanker Richard Parks has made history as the fastest Briton to reach the South Pole solo and without assistance.
Bath recorded a time of 29 days, 19 hours and 14 minutes; arriving at the Pole at 5.24am GMT on Sunday, and topping the previous mark set by Hannah McKearn in 2006 by nearly 10 days.
Parks, whose 29-day journey entailed over 700 miles of skiing, is no stranger to adventure; the ex-Wales back-row having been crowned the first person ever to climb the highest mountain on all seven continents, and stand on all three poles in seven months back in 2011.
"Physically I am absolutely shattered, mentally I am frazzled, it is just a lot to take in," said Parks.
"I have a lot of emotions bouncing around but I am happy, proud and grateful."