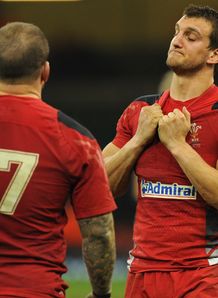 Related links
Teams
Wales and British and Irish Lions skipper Sam Warburton has his sights set on an historic third successive Six Nations title in 2014.
Warburton led his country to their second straight title in 2013 with an emphatic 30-3 victory over England in Cardiff clinching the trophy; the first time Wales had retained the crown since 1978 and 1979.
And the back-row is targeting a record trio of consecutive Championships.
"No one has won the Six Nations three years running and to make history there would be very special," said Warburton.
"The England game was massive, the biggest game I've played in and it was just one of those days when everything went right for us. That happens very rarely. I didn't see a 27-point win coming at all."
Warburton then captained the Lions to their first series victory in 16 years, with a 2-1 triumph over Australia in June and July, though injury ruled him out of the decisive third Test.
"It was a dream come true," added Warburton.
"Ever since I was kid it was all I wanted to achieve, so 2013 will be a year to remember.
"I bought all the memorabilia as a kid but to have a real Lions shirt on was an awesome feeling.
"Being presented with my first Test jersey, the number seven, by Ian McGeechan was a highlight for me. He spoke very well and it really put into perspective what playing for the Lions meant. I took the jersey back to my room and laid it out on the bed so I could see the number seven that I had worked so hard for for so long."
"At the time I was quite disappointed (to miss out on the third Test), because in the three biggest events I've been involved in as a player - the 2011 World Cup I couldn't finish because of a red card, the Grand Slam in 2012 was injury plagued for me and I went off at half-time and to then not finish the Lions tour in the third Test - I was just desperate to finish one of them.
"In hindsight now, if someone had told me that I would play four games at number seven, all as captain, I would have loved that and it is a good achievement, but I guess you always want more."