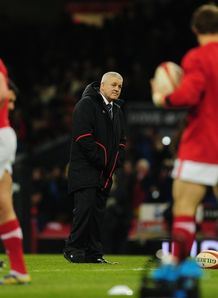 Related links
Teams
Wales boss Warren Gatland was left unimpressed after an incident involving New Zealand's Andrew Hore went unpunished on Saturday in Cardiff.
Hore was caught on camera delivering what appeared to be a swinging punch to the head of Bradley Davies, with the Wales lock then forced to leave the field. The incident was not punished at the time, but Hore appears certain to be cited.
"It does not look the best in the world, it looks like he has been caught from behind, I don't know whether it is a swinging arm or not," said Gatland.
"You do not associate the All Blacks as being a side that resort to cheap shots and I hope that is not the case and that maybe it was an accident.
"Bradley has gone down in a heap, we had to admit him to hospital, he doesn't quite know where he is at but fingers crossed he recovers.
"He was a big loss to us and it took us a bit of time to cope."
Overall Gatland was proud of his players for sticking with the All Blacks despite finishing far behind on the scoreboard, with the home side scoring two tries through Scott Williams and Alex Cuthbert.
"We could have thrown in the towel against the world champions but we didn't do that," added Gatland.
"I thought we grew into the game and took the game to them in the second half. I'm proud of the way we stole territory and possession in the second half but unfortunately we weren't able to do it in the first and the game got away from us.
"We wanted to take the game to the All Blacks. You've got to take some risks against them."