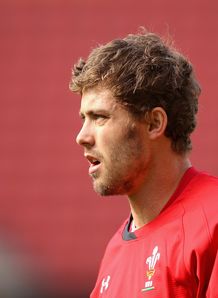 Related links
Teams
Full-back Leigh Halfpenny has admitted that Wales are focused on "putting things right" after losing to Argentina.
Wales were widely criticised by both fans and the media for their lacklustre showing against the Pumas, with Halfpenny stating that the performance produced by his team was unacceptable.
"We didn't meet the standards we set ourselves against Argentina," said Halfpenny.
"Our ability to keep the ball wasn't good enough. We pride ourselves on our fitness and our ability to keep the ball but we weren't able to build that pressure.
"They slowed our ball down a lot and every time we attacked them there was a wall of white and blue jerseys in front of us.
"I think for us as players and a whole squad it's how we bounce back, how we react from Saturday.
"For me I just can't wait to get back on the pitch playing. We worked hard over the last two weeks and I guess we'll have to work harder now.
"I think over the series, the longer we spend together the stronger we'll get. We'll look at the video and look at what we've got to do better against Samoa."
"I've had a lot of highs in the Welsh jersey and a couple of lows and that was one of the lows on Saturday.
"It's hard to take as a player but that's rugby. All we can do now is look at our video analysis and improve. To be honest getting out on that training pitch can't come soon enough for me and we can start putting things right."
Wales face Samoa on Friday night, with the visitors fresh off an impressive 42-12 victory over Canada last week. Halfpenny has stated that his side will not be underestimating Samoa by any means and look to play with more structure.
"With Samoa it goes without saying they're a hugely physical team and they have that unknown about them that they can create something out of nothing," added Halfpenny.
"They have players with a lot of flair and a lot of running ability. They're able to offload and have a lot of skilful players so it will be a physical and fast game.
"We need to stick to our structures, not let the game go loose and match them physically."